"Hello, Mr. Warhol": the exhibition of reproductions of the most famous works of the artist was opened in Uzhhorod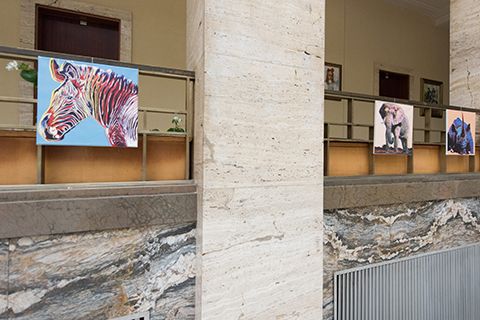 On August 5, 2017, Uzhhorod honoured the famous native artist Andy Warhol and warmed up in the rays of his glory for the second time. 
For the first time it happened on October 28, 2016 when it was opened unconventionally executed Warhol's monument by the Uzhhorod sculptor Mykhailo Kolodka, who, however, in December 2014 installed a mini-figure of the artist in the city. On the 5th of August, in Mynai village near Uzhhorod it was opened Andy Warhol Square as well as the exhibition of reproductions of the most famous works of the artist in the administration building at the People's Square.
Formerly, Andy Warhol was honoured in the town of Mezhylabirtsi (historical Transcarpathia, now Slovakia), where it was created the artist's museum, and not far from the city there is Mykova village, from where in the 1920s his parents, the Rusyns-Ukrainians Andrii and Yuliia Warhol, emigrated to the USA (it is known that Andy's mother did not properly learn English and speak to her son in their native language). The future father of pop art was born on August 6, 1928 in Pittsburgh, the city of Transcarpathian emigrants. He was destined to become one of the leading figures in the world art. Probably, thanks to the amazing intuition that led the artist through the world of advertising and commerce and allowed him to understand the processes of pop culture, to see the standard things outside the box, to transform replicated things in a new quality by means of the very replication, which is like the industrial production of objects. It is appeared "icons" of the era of mass consumption, serial objects turn into works of art by means of reproduction in various colour solutions, stereotypes of social being rise to the level of legend. Warhol's enormous achievements-constant experiments, striving for unexpected solutions in a wide variety of arts–from painting, illustration, design, sculpture to cinema, writing, directing and production.
Citizens of Mynai village will get used to the new name–it's better to fit into the global context, and Andy Warhol is a direct key it. In the end, it was Uzhhorod where in the 1990s it took place perhaps the last in the 20th century burst of the pop art called "pop-trance", and one of its leaders is amazingly similar to Andy.
Text: Mykhailo Syrokhman
Photo: Oleksandr Nikitchuk