MEMORIAL EXHIBITION OF GABRIEL GLUCK IN UZHHOROD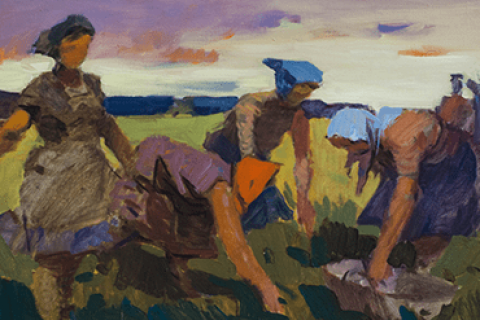 On 9 February 2017 at the Transcarpathian Regional Art Museum named after Y. Bokshai it was opened a memorial exhibition of the Honoured Art Worker of Ukraine Gabriel Gluck (1912 – 1983). The exhibition is dedicated to the 105th anniversary of the artist`s birthday.
The exposition, arranged in four halls, has about 60 easel landscapes, portraits and monumental canvases representing the entire creative way of the great master – his interest in a human, his work and life, his picturesque interpretation of the Transcarpathian world. A separate section presents the artist`s graphic works. G. Gluck - a contemporary and peer of F. Manailo, A. Boretskyi, Z. Sholtes, A. Kotska, E. Kontratovych, belongs to the second generation of the Transcarpathian School of Painting. He was born in Sighetu Marmației (Romania), studied at the Higher School of Fine Art in Budapest (1931 – 1933). In 1947 he moved to Transcarpathia, having already been a true artist, and there it was built his painting style, which was constantly evolving, becoming perfect to a new level almost every decade.
The restrained colour scheme of the late 1940s – early 1950s was gradually gaining the colour strength in landscapes, genre scenes, and portraits ("Boy in a festive costume", "Farm girl from the Teresva valley", "Young feller", "Fellers at peace vigil", etc.). His works of the mid 1950s and the early 1960s are accurate tonal solutions and environment states. The colour became sonorous and succinct. As a demonstration of the artistic potential it was perceived a large canvas "Fellers" (1954), which brought to the artist the Grand Silver Medal at the Brussels World's Fair in 1958 as well as international recognition. In the 1970-ies the artist's painting was gaining decorative strength in all genres. Somewhat geometrical shapes were simplified and generalized, imbued with the light, coloured lines were arranged with the high taste in the genre works ("Neighbours", "Woman farmer", "Lunch", "Summer day"), landscapes ("At the church", "Spring time", "Greatness of the Carpathians") and still lifes ("Tulips", "Autumn flowers", "Asters").
The heritage of the artist made a lot of graphic works. His masterful drawings with pencil, charcoal, pastels, marker are good by their accurate figures and scenes, graphic portraits are valuable by their realism of the character, state, mood, they are valuable as separate works, though they often served as a preparatory stage for the paintings. Gabriel Gluck lived in accord with reality. He found what matched his human and creative nature. His painting - favourable unity of form, technique, means and subject. His genuine interest in work was primarily the realism of human life, strengthening by activities, which is optimistic itself.
Text: M. Syrokhman
Photo: O. Yurchenko