Vasyl Bobita: "All sketches are in my head"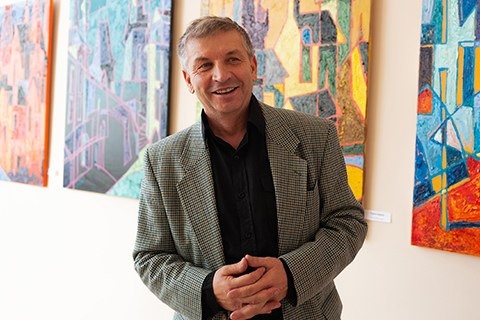 Contrasting bright colours and clear lines – it's easy to recognize Vasyl Bobita's works. An artist from Transcarpathian Irshava easily plays with colours and shapes and he can create a mood for the viewers because he knows colours also affect emotions. The artist told about his creativity and artistic preferences during the interview with Art & Culture Foundation Brovdi Art.
– When did you decide to occupy yourself with art? Who were your teachers?
–Since I can remember, I've always painted – on the fences, on the shoulders of my classmates, on the school board… And in high school, we wrote an essay on the topic of what did we want to be. Even then, I clearly understood that I wanted to be an artist. Parents did not see this perspective at first, but then they supported me. My teachers were Ivan Masniuk and Ivan Didyk. But I also learned from the works of the Transcarpathian artists – Erdeli, Manailo, Kashshai. Most of all I liked Prykhodko, I learned a lot from him, although my technique isn't similar to his.
– It is true, your style is difficult to confuse with someone…
– In fact, it's hard for me to say what style it is. There are elements of modernism, expressionism, constructivism, cubism – I try to combine several styles. It is somehow realistic, for example, in urbanism, all places are real and can be identified from the paintings. For example, Prague landscapes are easily recognizable. I love this city. And for me, the cityscape probably predominates a little. But I collect images and do not depict a specific place. I take fragments, combine them and in such a way I create a painting.
– Transcarpathian school is characterized by extremely rich colours. And in your works, it is also special. Was it always like this?
– I am a supporter of open, true, clean colours. This is more peculiar to the Transcarpathian school, than to Kharkiv or Kyiv. At first, they tried to rein me, but when the Soviet communist system lost its influence, I returned to bright colours. Now my favourite colour is blue, although it does not dominate in my works. I want my work to please the viewers, brings positive emotions. That's why I use hot colours: yellow, red, orange. They have a positive effect on a person and create an atmosphere of joy. Once, a woman at the exhibition said: "I don't really understand your creativity, but it cheers me up."
– Which technique do you like the most?
– I use only oil paints. Sometimes I make the background with enamel. I use sand and other impurities to make the work textured. Therefore, this is, in fact, the author's mixed technique.
– Did your own style and such an extraordinary colour palette appear together or one preceded the other?
– It happened together. I have several works with paints just pouring onto a canvas. But I'm not a supporter of open abstraction: I believe that even abstraction has to carry some idea, content. I work with a combination of colour. There should be a purely graphic composition, in which I then combine colours. I always think of shadows, half-colours, contrasts, I create them on realistic bases.
– And how do you work on your idea? Do you plan it ahead?
– I paint in series: I have rural landscapes, a series of haystacks, and cityscapes. When I draw a series, I have new ideas on this topic, that's why I do not want to refocus myself on something else. Sometimes I plan the topic in advance – I think everything over: colour, composition, and sometimes the works appear impromptu. Now I plan to make a new series with animals. A lot of things attract an artist, but he cannot paint everything.
– If you plan ahead, you probably know how the work will look at the end?
– Sometimes I see a work in advance and it becomes less interesting to work on it, because I know that I will get it at the end. Although it is not always that way. Sometimes I do not know what's going to happen, I start to improvise and can see the result only upon completion. I practically never make sketches – all sketches are in my head. I can imagine how the work will look and even its colour palette. First, I create the image graphically, and then I create the mood of the painting with the help of colour.
– Is there something special that inspires you?
– Definitely, there is. My family. My sons, daughters-in-law, grandchildren. My wife is also an artist. They are my greatest inspiration and support.
Text: Kseniia Shokina
Photo: Nataliia Pavlyk
© Art & Culture Foundation Brovdi Art