Book "Pavlo Bedzir" by Mykhailo Syrokhman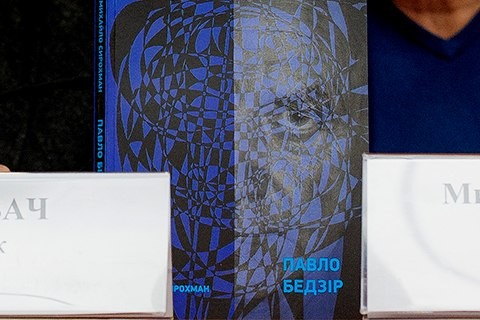 On 5 December 2018, in Uzhhorod, it was presented a publication about an outstanding representative of the Transcarpathian school of painting Pavlo Bedzir. The author is an art historian Mykhailo Syrokhman, and the book was issued in the publishing house of Oleksandra Harkusha.
The avant-garde artist, whose creativity does not resemble any other Transcarpathian artist, created his own presentation. He was "not at the right time" for a long time, but his work was highly appreciated not only here but also in Kyiv and abroad.
Materials for the book were collected for many years. "This diamond, this personality and charisma of Pavlo Bedzir were lost in the gap of time for a long time. The publication of this book is an apotheosis, which helps to rub away the dust of time from that lost precious stone," the publisher Oleksandra Harkusha explicitly noted.
The author of the publication Mykhailo Syrokhman noticed: "Pavlo Bedzir is part of my life, it's about 30 years of communication. He was not going to be a teacher, but he became a teacher. Bedzir sincerely shared everything he had. There are several truths about him, and that truth I wrote is a subjective one, it's my truth. But my subjectivity is at the same time impartial. I had no chance to write about him traditionally: it was important to find the form of presentation. I interleave chapters with the monologues of Bedzir himself, recorded by journalists. I did not want to do any art studies. I just wanted to show a person that I knew and loved."
The publication consists of two sections. The first one contains a detailed biography (birth, youth, information about his family, his wife Yelyzaveta Kremnytska, who played an important role in the formation of the artist, his friends, the pressure of the Soviet Union. And the second is devoted to the work of the master – graphics and even such a rare but incredibly professional painting, as well as op-art – a notebook series.
"He was one of those underground artists who worked in the underground, was not able to show his works as a whole and thus educate the younger generation. The creativity of Pavlo Bedzir was difficult to perceive because he was a graphic artist – he did not paint in colour. He said that the graph allows you to reveal deeper ", – contemporary artist Pavlo Kovach told.
The audience is sure that the publication of the book "Pavlo Bedzir", will be the beginning of the restoration of the artist's name in the memory of his contemporaries. In the coming years, they also hope for the appearance of the memorial museum of Pavlo Bedzir.
Photo: Nataliia Pavlyk
© Art & Culture Foundation Brovdi Art