ANTON SEKERESH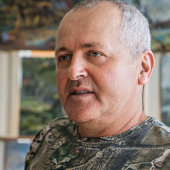 From the panoramic windows of his studio in Kliucharky village, one can clearly see Mukachevo Castle, and from the lower floors of the building one can hear funny laughter of granddaughters and aroma of delicious coffee. It is light here, probably, even in the gloomy autumn day – such light and kind are also his pictures. Anton Sekeresh is a member of the "Rainbow" art association, "Art-palette Centre" creative association, an artist who loves his land and especially his own family.
The studio of Anton Sekeresh is spacious and well lit – everything was done according to his own project. Here one can see a folding wooden ceiling that leads to the attic, where the telescope stands, and huge panoramic windows which give freedom to create. "From the windows you can see a wonderful place, where it is nice to walk and say hello: "Hello, Palanok Castle! It's hard not to be an artist when you see the castle in the window. Even when a child, I was fantasizing how the nobles lived there or it was made assaults and people held the line," Mr. Anton smiles.
"I did not go to kindergarten, so I was at home with my grandmother, making something and fantasizing. My father had a studio where he had vice and it was possible to plan wood – my joy knew no bounds, - the artist recalls his first steps on his way to art. - I've always liked constructing and painting. And, when I had to make a choice, I preferred the metal art."
The early works of the master are still kept in the studio: the diploma work "Signs of The Zodiac" - metal fragments of each sign on a wooden surface, ceramics, graphic and painting works. He says: "Life is such a thing that has many directions, and sometimes they are to be changed."
But, of course, there are a great number of pictures in the studio. "Painting is like life, like to breathe," the artist says. He adds: "I cannot imagine my studio without new paintings."
The teachers of Anton Sekeresh were Zoltan Bakonii, Shandor Petki, Ivan Masniuk, Ivan Didyk, Vasyl Petretskyi. However, he tried to look up to the masters of fine art. Thus, for example, he likes the works of Michelangelo, but he believes that it is not necessary to be tied up or look up to someone's creativity: "To paint is such a kind of work that does not require assistants. We cannot look around and wait for someone to help us. A person must feel confident and independent. I think it's necessary not to compete with someone, but to improve oneself, own style."
The works performed in various techniques attract great attention in the studio. Most often he paints with oil, but he also has pastels and watercolours, uses pencil, acrylic, tempera, gouache and even ballpoint pens - Anton Sekeresh is generally open to experiments.
There are portraits, still lifes, but mostly landscapes - it is not surprising: love for Transcarpathian nature is noticeable with the naked eye, so the artist can often be found on the plein air. The artist notes: "Although I've been outside Ukraine and overseas more than once, I like the landscapes of Transcarpathia most of all, because it releases a special energy. We have such nice sceneries! These are mountains, sun rise and fall, fog, and clouds of Bokshai. And, what are the colours! As Mykyta said: "I bought paints, because I couldn't help but paint."
It is not just the nature that Anton Sekeresh lives: it would be strange if he did not paint castles, all the more Mukachevo Castle. Actually, it is the very Mukachevo castle "Palanok" that gets on the "camera" of the artist most often. Now the artist is preparing for the collective exhibition "Castles of Transcarpathia", so he will have an opportunity to present their works to the public.
Interestingly, some of the first works of Anton Sekeresh were stolen from the exhibition hall. He recalls: "That was the first exhibition in my student days. Mykhailo Roskin then advised us to take an active part in such events, because nobody knows what your life is going to be like, perhaps there will be no other exhibitions. I hang my works in the hall, but I was so sorry that two of my graphic works were cut out and stolen by someone. I tried to revive them at least approximately from my memory, but it did not work." He laughs: maybe these works were the most beautiful of the presented, that's why they were stolen.
Now, the artist pours warm and light in each of his works. "I want my pictures to encourage people to do good. Perhaps someone will also take a brush and start painting like me. And, it is right when it is joyful and sunny. How could it be otherwise?"- the artist wonders.
It is believed that Anton Sekeresh paints fast-he can create one or two pictures per day, and sometimes he only spends half an hour painting a portrait, so he always has a piece of paper and a pencil and paints passers-by. "It's nice to create portraits. People are beautiful. When you see light, colour, hair, turn of the head, I want to depict it on paper as soon as possible."
It is somewhat difficult for artist to create on order because he says it limits the imagination, creates certain frameworks and sets a specific direction, but at the same time it encourages discipline. However, he believes: "Creativity is a fantasy without any connection to the final result."
The most important thing for Anton Sekeresh is positive energy and mood conveying, because in his belief "good and the sun should be in the forefront."
Text: Kseniia Shokina
Photo: Nataliia Pavlyk