MASTER AND HIS STUDIO. VASYL OLASHYN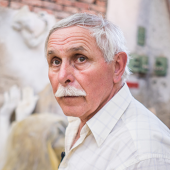 Spacious, bright, and huge – such should be the place for equipping the studio of the true sculptor. Space is necessary for imagination and not to limit the flight of fantasy. A lot of light is needed to clearly see each detail, each bend of future work. A considerable area will not be superfluous for numerous equipment, clay, stands for products and work samples.
And, it is the very studio, where the well-known Transcarpathian sculptor-monumentalist, laureate of the Regional Prize named after Y. Bokshai and A. Erdeli, member of the National Union of Artists of Ukraine Vasyl Olashyn creates.
Just at the studio entrance it becomes clear that this is an extraordinary place – the guests are met by a female figure in the yard and right above the door-bell it is attached a sculpture – a large human ear. Vasyl smiles: "Here is not just an ear. Here is also an eye in the bushes- a sign that I can hear everything and see everything." The sculptor does not call his studio otherwise, but a cathedral: "I come here not as into a studio, but as into a spiritual chair, into my cathedral. Here I get the appropriate state, desire to create."
The sculptor's studio is located in one of the micro districts of Uzhhorod, it is divided into several rooms, one of them – really huge one, is suitable for creating monumental sculptures. Two more rooms – small, full of creative atmosphere and coffee aroma: here is the bed where the master, captured by inspiration, often stays overnight; sketches of works that are still awaiting the incarnation; tables and shelves full of various tools, blanks, small sculptures, work samples, books and a bunch of various things.
The sculptor talks about his way to art. He liked to paint since his childhood. He admits, he painted all books, because there was no other canvas at hand. "My cousin was going to enter the college and I was sent there as an amateur, no one even thought that I would pass the selection. But, I was getting ready. A paradox happened: I entered, my cousin did not," Vasyl Olashyn recalls his entry into the Uzhhorod College of Applied Arts, where he began to learn wood art. "Wood is warm and plastic – I liked it. But over time, after graduation, I had creative problems: I wanted something more. I understood that I would not choose another profession, but then a question arose: what to do next? I wanted to do more serious works. There was a lack of knowledge for this... "As it is often happened in life, I was helped by chance: a talented young man got acquainted with the famous Ukrainian sculptor Valentyn Borysenko, who advised him to enter the university. Thus, the creative way of the master for a lifetime started – from the institute in Kyiv, mastering the corresponding speciality, searching for yourself …
It is here, in the studio, Vasyl Olashyn reveals himself as he really is – sincere, but strict in his creativity, persistent in his work and at the same time too open, vulnerable. He can tell a lot about each of his works, and about the way to it – even more. He does not just undertake the embodiment of another idea, he studies it for a long time, scrupulously, from all sides. "When I start a work, I search for the material that was done before me and everything that can be found," the master says. – So, for example, during the work on the monument of Zrini, I even went to Hungary – where she lived, got married … When I made the sculpture of Koriatovych, there were difficulties: little information, just the facts, there were no pictures of him. I found his portrait of somewhere in the 18th century – a graphic representation of a semi-caricature, but it was impossible to create a sculptural image from it. Therefore, I decided to make Koriatovych in the way I read about him: he was loved as a prince, because he was compassionate, he was respected for wise decrees. Then I added the symbols: he points down with his finger, as if saying, my people and I are the owners here, on this land, and in his right hand he holds a scroll – it speaks of his intellect, because he created the local laws."
In general, the artist gives special importance to the symbols, as with their help the sculpture can communicate with the viewer. "The sculpture speaks only by symbols. This is the most silent kind of art and at the same time the most eloquent. If you approach the sculpture, stop thinking for a while, look at the sculpture and communicate with it, then you start asking questions: why? for what? how? where? With the help of forms, certain figures, the artist creates an image: hand position, look direction... All the details of the sculpture must be symbolic; content must be put in every movement. It happens, it is very difficult to understand them, to realize, but a hint is enough for the viewer to start reading the sculpture as a book ..."
Such a symbolic is the sculpture of Ilona Zrini (made with plaster), which is located in the middle of the studio: the first glance reveals a woman and mother, who hugs her daughter and son. But, not everything is so simple: "Look, here, in the foreground, there is a small Francis II Rákóczi who holds a wreath in his hands – a symbol of power. The mother with her left hand seems to push him forward: go, you are a man, you are a future king. With her right hand she holds her daughter to herself, as if protecting her. At the same time, it seems as if the daughter pushes her mother's hand back, and this gesture also carries a certain sign: later, she married an Austrian officer and betrayed her mother, who had to live out her life in Turkey."
Monument of Ilona Zrini is the order of the Mukachevo City Council for Mukachevo Castle, but although the layout was designed and approved, the sculpture was not paid and the work could not be completed. However, the artist does not lose hope that this work will be completed one day…
The sculptor shows modern combat boots, which are on the chair in the middle of the studio – they are needed for the idea connected with war in the East of Ukraine. Talking about the stele, he is working on now, he holds back tears, but his eyes show everything: the work is difficult, because it is about ATO, our soldiers and mothers. "As it is difficult for them at the front, in battles, it's so hard for me now, when I'm working on this monument for them," Vasyl Olashyn shares. – But, I do not want to create a monument just for it to be, I want to tell the story of people who defend their country."
Finally, with a cup of delicious coffee, the sculptor shows his guests the folders with sketches, there are ideas for a few more lives. If he could, he would actually have gone through it again, but he would not have made that mistakes which he had made. The only thing he would not change is the speciality "...as art is freedom, there are no laws, there is only the need to constantly do something new and interesting ..."
Text: Kseniia Shokina, Nataliia Petervari
Photo: Nataliia Pavlyk