"Recall to come back" by Kateryna Yalova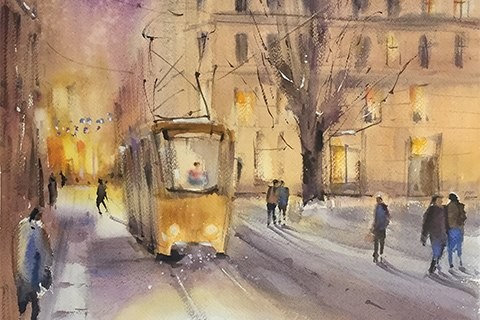 On 1 December 2018, in the Mukachevo Old Spise Coffee Shop, located at 39/2 Ilony Zrini street, it was opened a personal exhibition of Kateryna Yalova. The exposition is chamber, the author presented only 9 works, all united by a common name – "Recall to come back".
Kateryna Yalova was born in Dnipropentovsk in 1983. She has been painted since her childhood, then she entered the Architectural Faculty of the Pridniprovsk State Academy of Civil Engineering and Architecture, which graduated in 2007. Upon graduation, she worked as a designer, architect, but in parallel, she was constantly engaged in painting. In 2005, in Dnipro, it was held the first personal exhibition of the artist, in addition, her works participated, in numerous collective exhibitions in various cities of Ukraine (Dnipro, Odesa, Kharkiv, Zaporizhzhia), as well as in Italy and the Czech Republic. In 2011, Kateryna moved with her family to Mukachevo, and since then she lives and works in Transcarpathia.
Now in Mukachevo, the artist presented to the viewer a small selection of her works. All the pictures depict the streets, the central areas of those cities where the artist most often visits. "These are Lviv, Uzhhorod, Mukachevo — those wonderful cities that I like a lot, and therefore they are on paper," the author says.
In general, the artist says that at first, she was fond of oil, but recently she tried herself in a watercolour, and she really liked it. "In Transcarpathia, watercolour is not very common, although it is valued in Europe, it is becoming more and more popular," says K. Yalova. – In general, in this sense, I really like the expression: oil technology is like getting into a limousine, and watercolour is like getting into a Ferrari. I'm in love with this technique; so far it's my favourite."
Kateryna says that she is testing various techniques and styles, experimenting, looking for her own style, manner, and in this way a novelty for her – not surprising. But in the colour palette, she still prefers pastel, delicate colours, which requires the technology itself.
The exhibition of Kateryna Yalova in the Old Spise Coffee Shop will last until 11 January 2019.
Photos provided by the author.
© Art & Culture Foundation Brovdi Art