Transcarpathian sculptor-ceramist Endre Hidi presented his works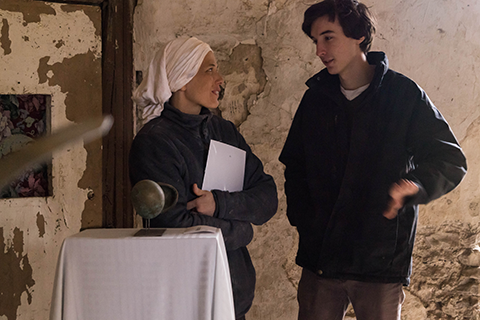 Endre Hidi Junior opened a personal exhibition in the premises of the Chynadiievo fortress of Saint-Miklos, Transcarpathia. Endre is a sculptor and carver who presented at the exposition about a dozen selected works performed during the last five-seven years.
Sculptures are made of bronze, wood, marble and metal.  The author's imagination and theme of the sculptor's works are extremely rich, there are the embodied in sculpture reflections on life and death "Past", "Turnover", the concept of memory in the eponymous work and "Past", "black" and "white" streaks in the destiny of people "Organic Wheel ", about DNA, there are also grotesque or even comic themes, like in sculptures "Ancient Bird", "Sirens", "An Old Worm".
In his work, the artist is inspired by everything around him, and most of all by nature. "In general, I like natural materials: wood, stone, clay-everything that surrounds us I use in my works", the master comments. However, the forms created by him are not copying of the seen object or figure, often these are profound philosophical works near which one should stop, look at them and think. For example, the work "Organic Wheel" carries a lot of semantic load. According to the master, in the work the wooden light parts alternate with the black ones (part of the wood is burnt, therefore it acquired a dark shade) and symbolize the very life: light is everything positive in life, and dark is the negative that is often encountered by each of us.
The exhibition of Endre Hidi will last until 22 October 2017.
Text: Nataliia Petervari
Photo: Nataliia Pavlyk