Valerii Kozub's paintings and graphics were presented in Kyiv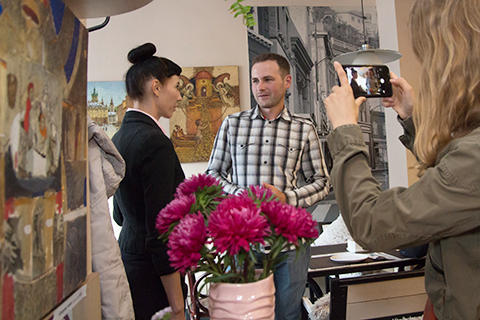 On September 8, 2017 in Kyiv at Café SITI it was opened an exhibition of works of a native of the Transcarpathian village of Turi-Remety Valerii Kozub.
A young artist studied at the National Academy of Fine Arts and Architecture and in the studio of Professor Andrii Chebykin, works a lot and now he is actively paving his way in art, he is a member of the National Union of Artists of Ukraine, he also works as a teacher in an art studio under the Union of Artists.
Valerii Kozub – participant of numerous competitions, plein airs, collective expositions, he held eight solo exhibitions in different cities of Ukraine and three in China. The current exhibition is small, there are only two dozens of paintings, and it is a kind of a small section of the artist's work – it presents paintings of different periods and different series. The artist presented landscapes made during the plein airs in Transcarpathia and Bukovyna, graphic works, as well as works of symbolic character from the series "Language of Symbols". The latter are especially close to the artist, as he himself admits: "These symbolic works are my view of life. Pictures "The Ship of Hope", "In One Boat", "The Tree of Life", "Unity" carry a deeply philosophical and subtle symbolic meaning. Each image on the canvas is the personification of a certain thought: thus, the horses with thin legs depicted in the work "Childhood" symbolize freedom, the ship of hope for the future, and so on."
Graphics and creative works of the artist are presented in a limited range of colours, in general, the artist tries to remain as close to nature as possible, to its shades, accenting only from time to time on certain details, which, in his opinion, really need to be shown.
"I like to bring to my work brass leaf, gold, I'm looking for the best means to implement the idea, and in general – I'm experimenting a lot technically," the artist says about himself.
The exhibition will last until the end of September, but, according to the author, it is possible that it will continue.
Text: Nataliia Petervari
Photos of works are provided by the author
Photo report: Svitlana Kulchytska