Presentations of master's works at the Transcarpathian Academy of Arts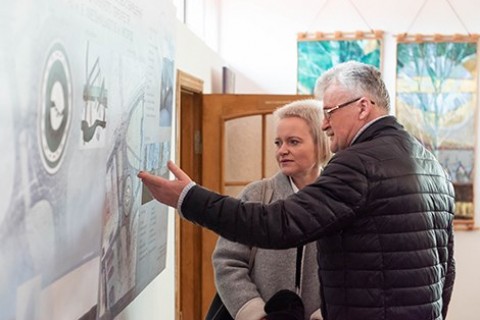 On 5 February 2018 in the premises of the Transcarpathian Museum of Folk Architecture and Life it was held a public defence of diploma papers of the graduates of the Transcarpathian Academy of Arts of the specialties "Fine Arts, Decorative Arts, Restoration" and "Design".
26 talented boys and girls presented their creative works in the field of fine arts and design. The overwhelming majority is made up of design projects, including projects for the design of exhibition spaces, social institutions, contemporary buildings, and the design of table games, and, of course, paintings, including multi-component genre compositions and still lifes.
The famous Transcarpathian artist, curator Taras Tabaka came to see the work of graduates. He shares: "The first visual impression is good, the potential is obvious. Certainly, there are better works, weaker, but at least made, it is comforting, it means a responsible attitude. We will listen to the text support, I am interested in annotations of the heads of diploma projects, but in general – it is good!"
Student of the Academy, a young Transcarpathian artist Vladyslav Horbunov, worked for the diploma project "Design of a series of stamps and a mailset "Ukrainian Poetry Film" for the past one and a half year under the direction of Ivan Nebesnyk (junior). V. Horbunov presented a full-fledged mailset, in which all the illustrations are the author's work. "The basis for the project was the footage from the films "Shadows of Forgotten Ancestors", "Well for the Thirsty", "Stone Cross", – the student tells and explains how they worked on the project. – From each movie, they took screenshots and selected the brightest frames. On their basis, they created compositions that would correspond to the plot and its mood. The main thing for us was to convey the visual expressiveness, surrealistic and ethnographic motives, atmosphere and recognition of the film. That is why visually the speech of each postage stamp is a simplification to the sign. We were interested in the associations and main objects of the films, which subsequently unfolded in the whole series."
The defence took place in two stages: first, the graduates presented the creative work in the gallery, and the next day they defended their scientific works in the walls of the native academy.
Photo: Robert Dovganych
© Art & Culture Foundation Brovdi Art