Defence of diploma papers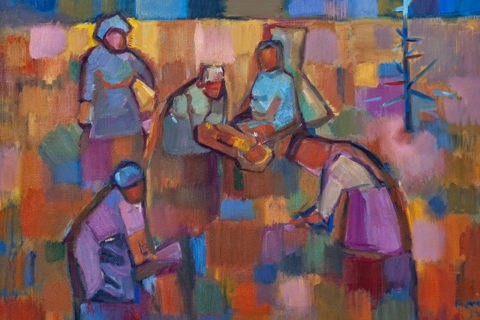 On 21 and 22 June 2018 in the cultural and historical centre "Owl Nest" it continues the public defence of diploma papers of the graduates of the Transcarpathian Academy of Arts. Graduation thesis was presented by more than 40 bachelors of all specialties of the educational institution.

In particular, there is painting, graphics, decorative and applied arts, graphic design and projects for the development of interiors, landscapes, etc. It should be noted that this year the graduates of the Transcarpathian Academy of Arts for the first time represent a linocut.
The painting is dominated by figurative, scenes from the life of Carpathian peasants, there are also works on sacred themes. Some students demonstrated a non-standard approach and surprised with their author's vision.
Graphics is represented by linocut – close to abstraction still-life and heraldry of Transcarpathian cities: Khust, Berehovo, Mukachevo, and Uzhhorod.
Applied students showed their creativity: they presented original sculptures of wood and metal, as well as decorative-functional and volumetric-space plastics, panels. There are also decorative and applied ceramics. Particularly interesting is the spatial metal sculpture "Birds".
Successful variants of interiors and landscapes were offered by the students of the design department. Among the projects are the interior design of the youth and entertainment centre, the gallery of the Transcarpathian Museum of Local Lore, nightclub and residential premises. Students also proposed solutions for the improvement of the territory of preschool educational institutions.
Graphic designers surprised with fresh ideas: this is the design of brands, tourist idientics, flip-top calendars, souvenir printing products and even comics and books. A series of posters "Pop Olympus" with images of famous music artists is interesting as well.
While the defence of diploma papers continues, it is available to view the works.
Text: Kseniia Shokina
Photo: Nataliia Pavlyk
© Art & Culture Foundation Brovdi Art