Defence of diploma papers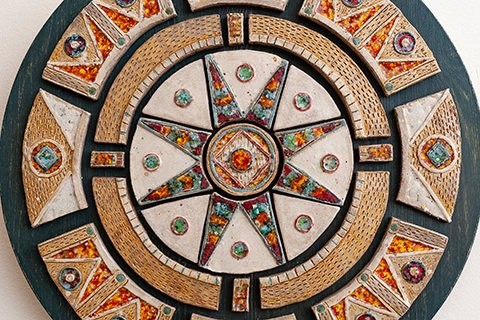 On 23 June 2018 in the exhibition hall of the Transcarpathian Museum of Architecture and Life it was held a public defence of diploma papers of the graduates of the Uzhhorod College of Arts named after A. Erdeli. 59 students of the educational institution, who studied in the specialties "Fine Arts", "Design" and "Decorative and Applied Art", presented their works.
The graduates presented painting, graphic works, art ceramics, wood and metal products using various techniques. The presented works impressed with their diversity and creative approach. Fine art mainly represents oil painting. Genre diversity is rich: there are landscapes, still lifes, and portraits. Themes are also different: genre scenes from folk life, historical and sacred compositions, etc.
Graduates presented original ceramic and wooden decorative and applied arts products. Some works form integral compositions, for example a decorative panel made of ceramic tiles to decorate the foyer of a children's hospital.
Designers prepared author's book graphics, a series of postcards on social themes, a board game, calendars and even a special application for smartphones.
The original designed interior design – in particular, a contemporary library and a molecular cuisine restaurant was presented to the examiners and visitors as well.
Students have been working on their projects for the last six months. "Each graduate has created a unique work in his/her own way, all have their own creative findings and achievements, thus it is difficult to evaluate the works. The main conclusion that can be easily done – our graduates hold a decent level of creativity. And this is the main thing", – said the teacher of Uzhhorod Art College Mykhailo Khodanych.
Defence of diploma papers of the graduates of the Uzhhorod College of Arts named after A. Erdeli will last until 25 June 2018.
Text: Denys Fazekash
Photo: Nataliia Pavlyk
© Art & Culture Foundation Brovdi Art