"Fascinated by Spring"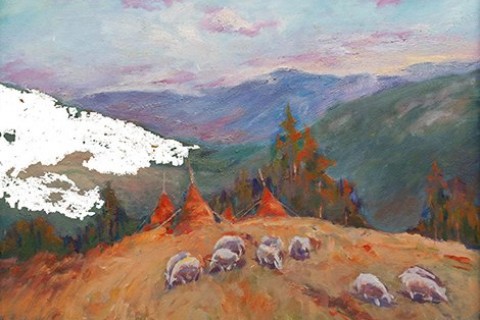 On 6 March 2019, in the Transcarpathian Museum of Folk Architecture and Life it was opened the spring and bright exhibition of self-taught craftsmen "Fascinated by Spring".
In addition to painting and graphics, there are ceramics, patchwork, embroidery and goldwork, vytynanky, doll making, origami, and even kinusaiha – in such techniques, their works were presented by 14 authors. Some of them are already familiar to the viewer, while others are only debuting. In particular, the viewer will see the painting on the plates, paper plastic, patchwork; painting is mainly represented by Transcarpathian landscapes, numerous architectural motifs, floral still lifes, as well as genre scenes and graphics samples.
Presented works of fine and decorative and applied arts are surprising, if only because they have a fresh look and an unusual approach. Many masters demonstrate the author's technique of execution.
The artist Emma Levadska remarks: "It is interesting that all these authors are not professionals – they are engaged in creative work in their free time. These are people of different professions: physicists, psychologists, teachers, and pedagogues… Someone in his works laconic and discreet and someone explodes a riot of colour and saturation. Most importantly, they have freedom in their works – there are no canons. They do what they want the way they feel. Of course, they make mistakes, but professionals make them too. However, for contemplation, these works are very pleasant and interesting."
The exposure will last for about two weeks.
Text: Kseniia Shokina
Photo: Nataliia Pavlyk
© Art & Culture Foundation Brovdi Art