OLEKSANDR BALOH PRESENTED JUBILEE EXHIBITION IN UZHHOROD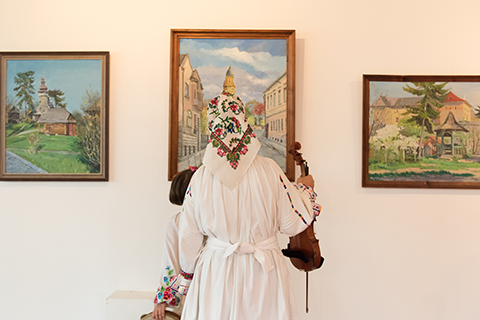 On August 7, 2017 in the Transcarpathian Museum of Folk Architecture and Life it was opened the anniversary exhibition of the artist-restorer Oleksandr Baloh, timed to the 70th anniversary of the master.
The exhibition includes 52 paintings, mostly landscapes. However, there is a self-portrait and several still lifes. But, the author admits he does not like portraits: "I painted a self-portrait only for the sake of my brother, who had been persuading me to do it for a long time. Probably, I don't look like myself, but I did my best. In fact, most of all I like landscapes and urban fragments." In addition to the art heritage, Oleksandr Yosypovych presented photo of 16 restorations.
Oleskandr Baloh didn't get professional art education, however, over ten years he attended the studio of Zoltan Bakoniia together with Kashshai, Sholtes, Tomchanii. It happened that he was working as a restorer in the museum for 26 years.
In easel painting, the author prefers pastel, watercolour, oil. He says: "I try to paint realistically, but I prefer purple and blue. I do not like green – I use it only when I need it." The artist usually makes a sketch, but finishes the work at home–he says that nothing hinders then, as he likes painting in one breath. "My works are always unfinished for me, but I do not like to correct or finish it – then they seem tortured," Oleksandr Yosypovych notes. "My work is a rest. I forget all the problems. Restoration is my work, but painting is for my soul."
During the exhibition opening, there were many positive reviews about the artist's creative heritage. Relatives and friends came to congratulate the hero of the day. Deputy Chairman of the National Union of Artists of Transcarpathia Mykola Shete notes: "He gives his soul to the paintings. It's not so important to convey what you see, it's more important to show what your heart says. The works of Oleksandr Baloh are very worthy, although he is a professional restorer, his paintings will also please a lot of people."
The exhibition of Oleksandr Baloh will last in the Ethnographic Museum until August 25, 2017.
Text: Kseniia Shokina
Photo: Nataliia Pavlyk