Jubilee exhibition of Ivan Bondarenko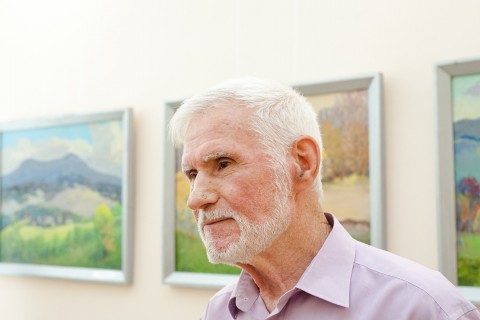 On 7 August 2019, in the Transcarpathian Museum of Folk Architecture and Life it was opened an exhibition of works by an artist by profession and an architect by the specialty of Ivan Bondarenko.
The exhibition is a jubilee, dedicated to the 80th anniversary of the artist. It was organized with the support of the Department of Culture of the Regional State Administration of the Transcarpathian region and the association of professional artists of Transcarpathia.
Ivan Bondarenko was born in Vinnytsia region. He studied in Lviv and combined his life with Transcarpathia. By the way, the vernissage was attended by numerous classmates of the jubilee who came from Lviv to sincerely rejoice for their friend.
In the exhibition selection, the author presented 34 works to the viewer, of which two dozen were oil painting on canvas. Landscapes are one of the favourite genres of the artist and, as the Chairman of the Union of Artists of Transcarpathia Borys Kuzma remarked in his welcoming speech, this is not surprising, since the nature of Transcarpathia is a powerful provocateur, posing its unique beauty with constant challenges to artists.
Separately, it should be noted the artist's beautiful watercolours, made in the technique of wet, they are light and full of air.
Sketches of architectural objects, where the author of the design decisions was Ivan Yevremovych, are also presented at separate exhibition stands.
For the future, the artist is already planning an exhibit with the animals he loves so much.
At the solemn event, the artist was presented with an award from the regional authorities – a distinction for the development of Transcarpathia, for creative achievements and a significant contribution to the development of the culture of the region.
Text: Liudmyla Kozlovska
Photo: Nataliia Pavlyk
© Art & Culture Foundation Brovdi Art