JUBILEE EXHIBITION OF BORYS KUZMA "IN THE COSINESS OF STILL LIFE"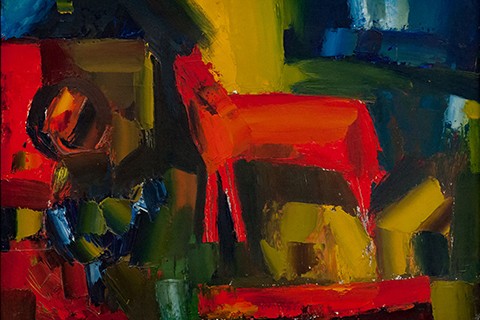 On 23 February 2018, in the halls of the Transcarpathian Regional Art Museum named after Y. Bokshai, it was opened a retrospective exhibition of the People's Artist of Ukraine, Head of the Transcarpathian Regional Organization of the National Union of Artists of Ukraine Borys Kuzma.
The exposition is titled "In the cosiness of still life".
The exhibition is timed to the artist's anniversary, who turned 60 on 22 February. The holiday exposition consists of more than 74 paintings. Mostly these are the works performed during the last twenty years of creativity.
As the author himself told, the idea was to choose 2-3 paintings from each year. Visitors to the exhibition have the opportunity to view both the known works of the artist and those that have not yet been presented to the public. The paintings were created during numerous plein airs in the Transcarpathian region and beyond it, as well as, of course, in the artist's studio.
The exposition "In the cosiness of still life" amazed not only by the colour but also by the palette of genres. But the main emphasis of the exhibition is still lifes. "I decided to focus on this genre," the artist explained. As they say: I'm an artist, that's how I see it. Of course, for the exhibition not to be the same, I added landscapes, figural compositions and graphics. Next time, I will probably make an exhibition of paintings on my travels abroad or exclusively graphic works. But now I want to reveal the theme of still life."
According to art historians, Borys Kuzma forms and shows his own, interesting and emotional impression from the real world, thanks to a braiding of lines, picturesque knots and fragments, unexpected spatial constructions and bold coloured solutions.
The exhibition of Borys Kuzma "In the cosiness of still Life" will be held in the Transcarpathian Regional Museum of Art named after Y. Bokshai until 13 March.
Text: Denys Fazekash
Photo: Nataliia Pavlyk
Art works © Borys Kuzma
© Art & Culture Foundation Brovdi Art