"From traveling around the Carpathians" by Vladyslav Hanzel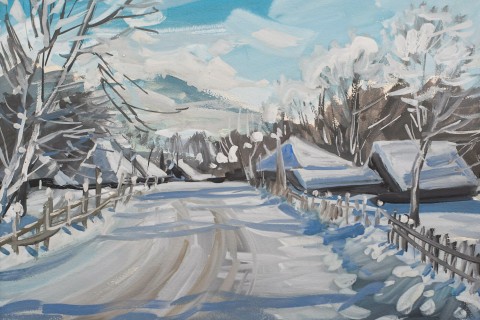 On 15 February 2019, in the hall-atrium of the Transcarpathian Regional State Administration it was opened the author exhibition of the painter Vladyslav Hanzel. The exposition is titled "From traveling around the Carpathians", and it contains 85 works by the artist.
Vladyslav Hanzel is known not only as an artist but also as an architect. He is the Head of the Transcarpathian organization of the National Union of Architects of Ukraine, Deputy Chairman and Head of the graphics section of the Association of Professional Artists of Transcarpathia, Deputy Chairman of the Association of Slovak artists of Transcarpathia. Since his childhood, he was engaged in painting at the Uzhhorod art studio of Zoltan Bakoniia, although then he became a professional architect (he has more than 200 designed objects in many localities of Transcarpathia). And besides architecture, the vocation and passion of Vladyslav Hanzel is the fine art – he skilfully masters the technique of watercolour, pastels and combined means, participates in numerous plein airs and art exhibitions in Ukraine, Slovakia, and Hungary. As noted by art historians, '…gravity for clarity and constructivity, the use of corpuscular smears in painting and contours in graphics, the contrast of forms and space, the expressiveness of the shadow and light – all this is a sign of the "Hanzel" style'.
It is such works – in a recognizable style – presented today in the hall-atrium of the Transcarpathian Regional State Administration in Uzhhorod. All works of art combined in a thematic exhibition, written mainly during 2017 and 2018, represent the direction of plein air painting. Vladyslav Hanzel added a short annotation to the exhibition – he briefly described the place and role of creativity in his life: "…I live, admiring what God has created for us, I love the world around me, I try to reproduce my feelings in my work, I want to leave a good mark behind…"
The inspiration for the artist was the beauty of the Carpathians and sceneries of Transcarpathia, which are depicted on canvases – here are picturesque landscapes of the Mizhhiria, Svaliava, Perechyn, Velykyi Bereznyi, and Volovets regions.
"All works are written during trips to nature – I'm a plein air artist in general," Vladyslav Hanzel said. – Almost everything that I see, I transfer to paper or canvas and finish the work right away. I finish it and do not return to it. Someone criticizes me for this, but I call this approach a kind of diary – I see and portray a moment that will not be repeated anymore, and the next one will be different."
Presented works are executed in combined technique, mainly, the artist combines acrylic and gouache, the latter according to the author, "very much helps out, because it does not fade."
By the way, before the presentation in the regional centre, part of the exhibition was exhibited at the House of Architects in Kyiv.
The exhibition of Vladyslav Hanzel will last until the end of February 2019.
Photo: Nataliia Pavlyk
© Art & Culture Foundation Brovdi Art