Exhibition "To You, My Ukraine"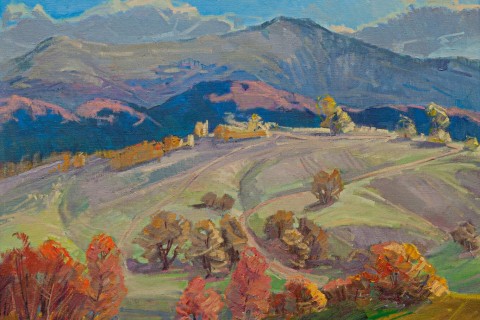 On 23 August 2019, on the occasion of Celebration of the 28th Anniversary of Independence of Ukraine, Creative Union of Professional Artists of Transcarpathia represented the works of ten artists. The exposition is supported by the Department of Culture of Transcarpathian Regional State Administration.
The association of professional artists of Transcarpathia, founded in 1990 and actively working today is distinguished among other artistic associations by its inspiration, passion, and desire to create and constantly improve its skills. As a result, annually holding numerous plein airs and presenting creativity at many exhibitions.
It is a creative association – a real living organism that brought together artists who are passionately in love with art, their land, the beauty of its nature and people. No wonder the exhibition was titled "To You, My Ukraine" – artists, depicting different corners of Transcarpathia, thus pay homage to their native land, magnifying it.
"Drawing in the midst of wildlife has become the main slogan of our organization. That is how we convey to our viewers our understanding of the beauty, the grandeur of our land," the head of the creative association, Honoured Artist of Ukraine Vasyl Brenzovych said.
The works of R. Tovt "Blossoming Glade", "Over Synevyr", V. Brenzovych "Pikui From The Top", V. Hansel "Spring Morning", A. Brenzovych "Synevyr Glade" are such a manifestation of love for their Motherland.
The exposition is filled mostly with landscapes performed with watercolours, pastels, oil on canvas and mixed technique.
As well, there are sculpture, bas-reliefs, small sculptures, among which is a circular sculpture depicting Vadym Hetman, executed in bronze by Honored Artist of Ukraine Mykhailo Belen. Presented monumental bronze sculptures are softened by the neighbourhood of Valerii Fedurtsia's impressive, fabulous root plastic.
The exhibition will last within two weeks.
Text: Liudmyla Kozlovska
Photo: Nataliia Pavlyk
© Art & Culture Foundation Brovdi Art