Exhibition "From Folk Sources"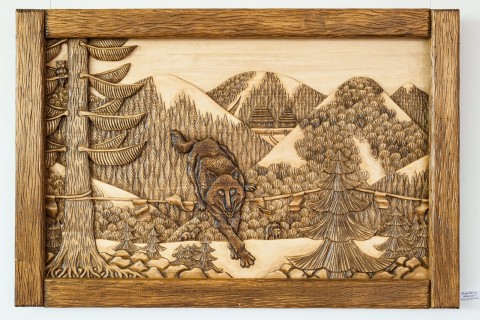 On 21 August 2019, the Transcarpathian Museum of Folk Architecture and Life it was opened an exposition of works by masters of decorative and applied art of Transcarpathia.
The exhibition with the apt title "From Folk Sources" is one of the many art events in the series of celebrations dedicated to the Independence Day of Ukraine, which traditionally annually the museum together with the Transcarpathian Regional Organizational and Methodological Centre of Culture represents.
As the director of the museum Vasyl Kotsan noted in his welcoming speech, the exposition presents more than 80 works of authorship by fourteen masters, among which there are professional artists and self-taught amateurs. Art critic Roman Pylyp added that this year talented young authors are also represented. There are graduates of the Transcarpathian Academy of Arts, one of them is Andreia Pryslupska.
In general, the chamber exhibition selection impresses with its versatility, generously represented by woodcarving, embroidery, artistic ceramics, weaving, root plastic, vytynanky, and metal artworks. All the works are united by the theme of folk traditions with motives specific to our region, which makes them especially unique. Among the numerous works, it is necessary to note the decorative plates of Oleksandr Senko and Tetiana Levlias, the root plastic of Valerii Fedurtsia, vytynanka of Emma Levadska, Mariia Yalova and Maria Kupar, and the woodcarving of a master from the Mezhhiria region Petro Shehda.
Head of the Museum at the Transcarpathian Regional Organizational and Methodological Centre of Culture, Honoured Master of Folk Art of Ukraine Nataliia Stehura focused the attention of art connoisseurs on the works of the original master from Velyka Dobron village of Hizella Kupash. Her work can rightly be called the highlight of the exposition.
Hizella Kupash was engaged in embroidery and weaving since her childhood. As an adult, she turned an abandoned rural building into a public museum, into which she brought ancient looms and samples of authentic embroideries and homespun products. The artist also takes patronage over a local orphanage, teaching children traditional folk crafts.
At the exhibition, the creativity of Hizella Kupash is represented by numerous towels, napkins, tablecloths, covers, decorative pillows, as well as wall panels made in the author's technique. Moreover, each work is unique in its ornament, colour scheme, composition and technique. Particularly striking are the patterns of weaving, made by ancient techniques that have been passed down from generation to generation, so unique that it was decided to include the Velyka Dobron shuttle weaving in the list of intangible cultural heritage items.
The warmth, the spirituality, the love of the artists to the land and its traditions are felt in the variety of works presented at the exhibition, which will surely find feedback from admirers of decorative and applied art.
The exposure will be available for viewing within two weeks.
Text: Liudmyla Kozlovska
Photo: Nataliia Pavlyk
© Art & Culture Foundation Brovdi Art