Exhibition "Growth"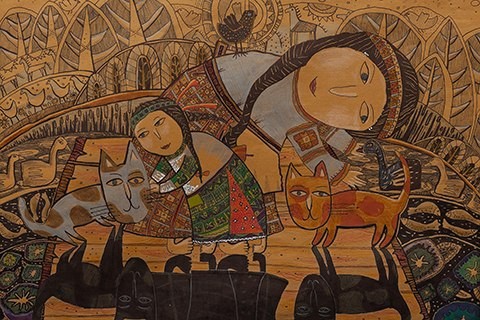 On 20 November 2018, in the premises of the Consulate General of Hungary in Uzhhorod, it was presented an exhibition of children's works "Growth".
The exposition consisted of 27 works –to present everything they'd like was not possible. The exhibition presented two art schools: Art studio "Small Luver" (Uzhhorod) and Volodymyr-Volynskyi Children's Art School.
According to the exhibition's organizer, the head of the charity fund "Art Commonwealth 'Today' Yurii Dik "... the future belongs to children – they will create it. It depends on them how we'll live and how we'll treat others. Therefore, it is important to demonstrate and fully support the creativity of our youth. Sometimes children's works are more important than those of eminent artists. And the presented works reveal the world of a child – colourful, interesting, bright."
The exhibition is quite contrasting: both monochrome and bright colourful works are presented here. The works of the representatives of Volodymyr-Volynskyi Children's Art School are characterized by complex compositions and elements of the symbolism of the Trypillian culture. Uzhhorod children demonstrated a more free approach as to forms and compositions.
Photo: Nataliia Pavlyk
© Art & Culture Foundation Brovdi Art