PAINTING EXHIBITION BY OLEKSANDR HROMOVYI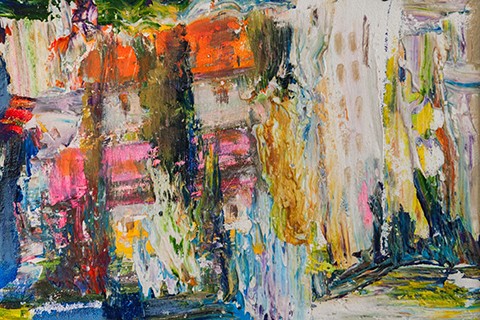 On 19 February 2018, in the exhibition hall of the Transcarpathian Museum of Folk Architecture and Life, it was opened the solo exhibition of Oleksandr Hromovyi.
The exposition presents the painting of the artist, who is a member of the National Union of Artists of Ukraine and the laureate of the regional prize named after A. Erdeli and Y. Bokshai (2015).
Modern painting, realistic modern, abstractions – a variety of paintings presented at the exhibition, shows the diversity of Oleksandr Hromovyi's talent. Despite, the artist introduced landscapes, figurative works, even portraits and sketches. All works presented at the exhibition are made in oil, acrylic on canvas.
In general, Oleksandr Hromovyi presented to art lovers almost four dozen paintings. All these works have been created over the past ten or twelve years. Some of them Transcarpathian viewers have already seen, but there are a lot of paintings presented to the public for the first time. "This is a small retrospective exposition, collected recently," the artist said. It is clear that it is very diverse by theme. After all, the artist's thoughts 10 years ago and now – is a big difference. Therefore, there are different ideas, different feelings, emotions in the works. The pictures differ in stylistics."
According to art historians, paintings by O. Hromovyi are striking with powerful energy, intriguing with depth and ambiguity.  The artist thoroughly reflects and outlines the intellectual and aesthetic environment of the present.
The exhibition of the painting by Oleksandr Hromovyi will be held in the Transcarpathian Museum of Folk Architecture and Life until 3 March.
Text: Denys Fazekash
Photo: Robert Dovganych
Art works © Oleksandr Hromovyi
© Art & Culture Foundation Brovdi Art