"FROM DISTANT WANDERINGS" EXHIBITION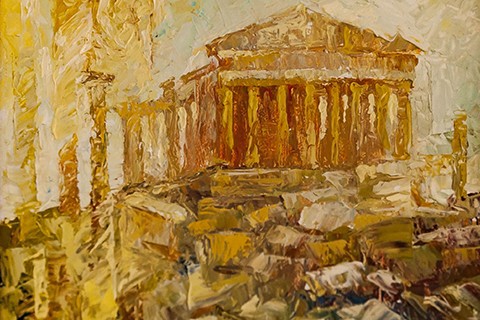 On 12 February 2018, in the exhibition hall of the gallery "Uzhhorod", it was opened an exhibition "From distant wanderings" prepared by the members of the Transcarpathian Organization of the National Union of Artists of Ukraine
The exposition consists of about 60 multi-genre works – mostly landscapes, but there are several portraits. Somehow, they all are related to the travels of our artists aboard – individual works were painted from nature, others convey only the impressions from pleasant recollections. The vast majority of paintings are painted in oil, part – in tempera, but there are also samples of graphics.
"Wanderings are needed both for an artist and an average person – they expand the horizons, teach something new," says the head of the Regional Union of Artists Borys Kuzma. I am glad that a lot of colleagues responded to this idea, and we managed to organize the exhibition just in a day. I think we will keep on working on this topic and develop it."
24 participants of the exhibition presented their works performed in Greece, Montenegro, Italy, Hungary, Slovakia, the Czech Republic, even America and Tibet.
In particular, the following artists presented their works: S. Biba, V. Bobita, Y. Bodnar, G. Buletsa, V. Vovchok, V. Habda, I. Didyk, V. Dub, M. Dufynets, Y. Yehorova-Rohova, V. Kadar, O.  Kashshai, P. Kovach, V. Kohutych, O. Kondratiuk, B. Kuzma, E. Levadska, O. Lypchei, O. Malesh, Y. Miravchyk-Rakovych, S. Pavlenko, V. Pavlyshyn, A. Pavuk, L. Pryimych, M. Rosul, V. Svaliavchyk, N. Sima-Pavlyshyn, O. Fedor, Y. Shelevytskyi, and P. Sholtes. However, according to the organizers, the exposition intends to be expanded with the works of other authors.
"Now one can come to the gallery "Uzhhorod" and see the half the world!" noted the initiator of the exhibition, head of the painting section Vasyl Vovchok.
The exhibition will last in the gallery "Uzhhorod" for about 2 weeks.
Text: Kseniia Shokina
Photo: Nataliia Pavlyk