Exhibition "X. Carpathica Art Expo"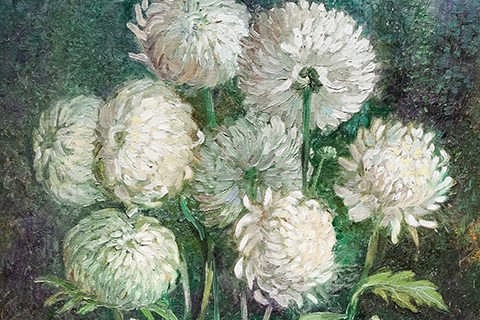 On 24 January 2019, in the Transcarpathian Regional Museum of Folk Architecture and Life it was opened the exhibition "X. Carpathica Art Expo". The exhibition, which takes place on the occasion of the celebration of the Days of Hungarian Culture, presents the creativity of the members of the association of artists named after Mihály Munkácsy of the Society of the Hungarian Intelligentsia of Transcarpathia.
During the opening of the exposition, the chairman of the society Yurii Dupko told those present about the past year in the life of the organization, and also presented diplomas to members of the society for their active creative work and high professional skills. Representatives of the Hungarian diplomatic services present at the exhibition congratulated the participants on the anniversary event and stressed the important role of artists in the development of cross-border cooperation in the field of culture and art.
In total, the exhibition presents more than fifty works of such Transcarpathian artists as A. Badov, S. Baloh, M. Belen, B. Vashkovych, V. Habda, G. Homoki, E. Kalitych, J. Klisza, A. Kuruts, V. Lezu, P. Matl, E. Nihrini, J. Reiti, O. Skakndii, A. Turak, A. Fuks, O. Tsanko, M. Suto, G. Sholtes, M. Sholtes, and P. Sholtes.
The artistic range is wide. There are works of easel painting, graphics, and sculpture, plastic in wood and wonderful models of decorative and applied arts. The themes, undoubtedly, are dominated by magnificent landscapes of native paintings for all artists of the Carpathians, portraits, still lifes, and genre compositions.
One of the participants of the exhibition is Honoured Artist of Ukraine Mykhailo Belen. The artist presented in Skansen the medals of outstanding cultural figures of our region – Adalbert Erdeli, Fedir Manailo, Yosyp Bokshai, Tódor Romzsa, and Shandor Pak.
"It should be noted that this is already the tenth anniversary since the founding of the Society of Hungarian Intelligentsia of Transcarpathia, I participated in this society from the very beginning of its existence, because I have a lot of works on Hungarian subjects, especially historical ones," M. Belen comments. – I believe that in the current period such exhibitions are a very good sign, because all of us, regardless of our nationality, work on the development of art, on enriching the culture of our region. I would like all those who live in Transcarpathia – and the Czechs, and Slovaks, and Rusyns, and Hungarians – understood this, and worked in one key, tandem! Because Transcarpathia is a multinational region, our cultures have been interconnected for centuries; we did not have mutual destruction, but only mutual enrichment. Therefore, I am very pleased that the Hungarian intelligentsia supports this trend, and this work ultimately enriches our history and our culture. "
The exhibition "X Carpathica Art Expo" in the Transcarpathian Museum of Folk Architecture and Life will last until 3 February 2019.
Photo: Nataliia Pavlyk
© Art & Culture Foundation Brovdi Art