EXHIBITION "IN THE CITY". UNION "BLUE OCTOBER"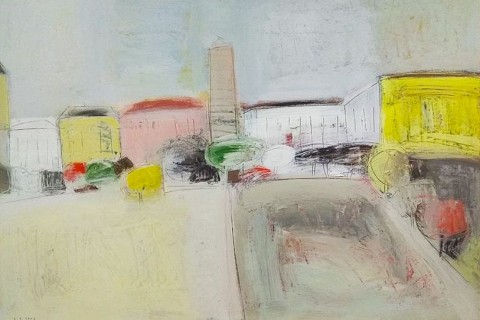 In the Kyiv gallery "Dim Master Klass", a group of artists "Blue October" presents their project under the title "In the City".
"Blue October" – an informal creative association of six artists, which aims to carry out joint projects, plein airs and exhibitions both in Ukraine and abroad. It includes Olena Pryduvalova, Akhra Ajinjal, Oleksii Apollonov, Oleksii Beliusenko, Matvei Vaisberg, and Borys Firtsak, a native of Transcarpathia. The curator of the projects of the creative group is Oleksii Beliusenko.
One of the founding members of the creative association is Borys Firtsak, who was born in Bilky village Transcarpathia. He graduated from the Republican Art School named after T. Shevchenko, then studied at the Ukrainian Polygraphic Institute named after Ivan Fedorov and now known as a painter, graphic artist, scenographer, and designer. The artist's paintings combine the stylistics of pop art with a certain poster of images and canons of drawing. The works of the artist are kept in private collections in Ukraine, Russia, Poland, Austria, USA, in museums of Ukraine and the USA.
About its new project "In the City" the group "Blue October" writes as follows: "We are not indifferent to Kyiv, we live, work, and make exhibitions here. The city affects all of us no less than solar activity and atmospheric pressure. Every day we roam its streets, inhale emissions of its cars, measure the depth of its puddle with our boots, rejoice and feel its sadness. We called our exhibition "In the city" because we all are in it ... Artists, spectators, pictures, and this showroom ... All of us - Kyiv.
For us, it is not just a landscape – trees, air, fogs, mountains, sun, Dnipro, lanterns... It is not only a point on a map with geographic coordinates of 50.45° N, 30.52° E. These are people, events, myths… Although we all cannot describe Kyiv, exhaust its plots, sum up its history, lay its horizons... "
A characteristic feature of the group's expositions is that they devote a special role to the musical component, which is not simply a frame of the evening, but a parallel vision. Thus, this time before the vernissage, the artists prepared a musical present-programme devoted to Kyiv by Olena Arbuzova (soprano) and Nataliia Kolomiiets (piano).
The exhibition will last until 10 March in the Kyiv gallery "Dim Master Klass" (57 Bohdan Khmelnytskyi Str., Kyiv).
Text: Oleksandr Nikitchuk based on the materials of the press release and Wikipedia article
Photo: http://dimmk.com/en/ and from the open Facebook page of Oleksii Beliusenko
© Olena Prydulova
© Ahra Ajinjal
© Oleksii Apolonov
© Oleksii Beliusenko
© Matvei Vaisberg
© Borys Firtsak
© Art & Culture Foundation Brovdi Art