Exhibition of Raisa Dorozhnykova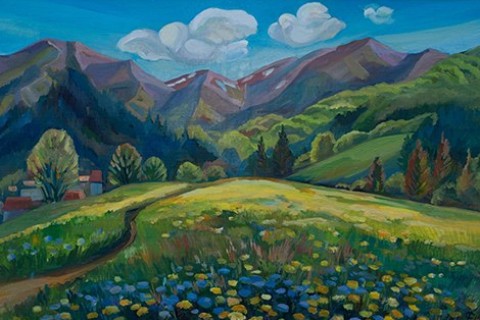 On 6 December 2018, in the premises of the Transcarpathian Museum of Folk Architecture and Life, it was presented the exhibition of Raisa Dorozhnykova.
The artist was born in Ivano-Frankivsk and received professional art education in Odesa. After training, she was sent to Mukachevo, where she lives and creates today. In addition, Raisa Dorozhnykova is an active participant of the Mukachevo Creative Association "Rainbow".
The exhibition consists of fifty works of different genres. Landscapes prevail. There is a picturesque Transcarpathia, Cherkasy, and Ivano-Frankivsk, as well as sceneries of Slovakia. In addition, flower still lifes are widely represented, there are also portraits and several plot compositions.
The artist mainly works in the technique of oil painting, but she admits that most of all she likes watercolour. "I am watercolourist – this technique I like best. Watercolour is transparent, light, it can leak and create interesting effects. In addition, the feature of watercolour is that it needs to work quickly and it always gives an unpredictable result," – Raisa Dorozhnykova shares.
In addition to oil and watercolour, there are also works made with a gouache, as well as a colour pencil and a marker.
In general, exhibited works cover a large period of time – from the late 1970s to the present day.
The exhibition of Raisa Dorozhnykova will last until 19 December 2018.
Text: Kseniia Shokina
Photo: Nataliia Pavlyk
© Art & Culture Foundation Brovdi Art