Exhibition of the Society of Hungarian Artists of Transcarpathia named after Imre Revesz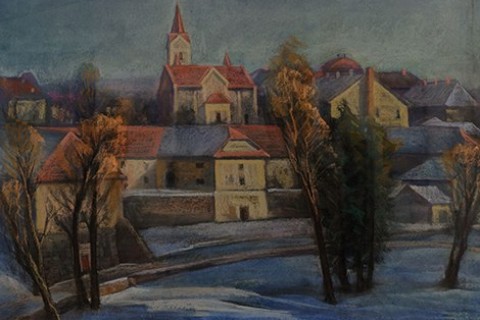 On 20 December 2018 in the Art Museum named after Y. Bokshai it was presented the exhibition by the members of the Society of Hungarian Artists named after Imre Revesz.
More than fifty works and sculpture – the final winter opening day presents the work of artists for the year. The authors submitted their works at their own discretion, and as a result, they were grouped and presented in four halls: separately presented are typical samples of the Transcarpathian School of painting, modern abstract works, there are works performed in the direction of symbolism and surrealism, as well as graphics.
It's nice that the attention is not focused on one or two genres: there are landscapes, still lifes, portraits, plot compositions, etc.
The number of techniques is also impressive: in addition to classic oil painting, many works made in tempera, acrylic, gouache, ink, pastel, watercolour, painting on glass, as well as mixed techniques. The sculpture is embodied in ceramics and wood.
There were works of the following artists: D. Benke, N. Boretska-Hrabar, A. Borotei, A. Veresh, T. Villashek, V. Habda, E. Hidi (Sr.), E. Hidi (Jr.), Z. Hohola, G. Homoki, G. Dykun, F. Erfan, E. Kalytych, J. Klisza, A. Kopryva, A. Kulin, P. Matl, M. Ori, J. Reiti, V. Sochka, I. Temetov, R. Tovt, O. Shandor, and S. Sholtes.
The exhibition will last until 15 January 2019.
Text: Kseniia Shokina
Photo: Nataliia Pavlyk
© Art & Culture Foundation Brovdi Art