EXHIBITION "WARMTH AND TENDERNESS" BY "PALITRA-SPECTRUM"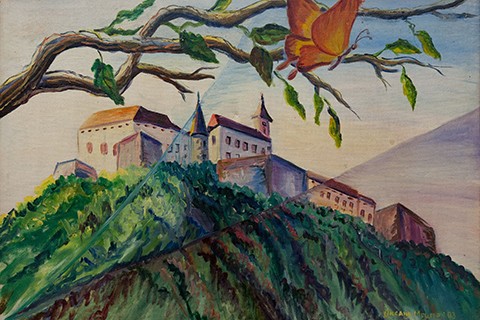 On 6 March 2018, in the exhibition space of the Mukachevo Palanok Castle, it was opened a spring exhibition "Warmth and Tenderness" of the representatives of the Art Club "Palitra-Spectrum".
Bright colours, warmth and tenderness – that's what viewers see in the works of the beautiful half of "Palitra-Spectrum". The exposition consists of about fifty works, among which there are female portraits, still, lifes with flowers, landscapes, genre compositions, allegories – the main criterion in selecting works for the exhibition of this club's representatives is always the variety of genres. In addition to paintings, represented are also decorative and applied arts. In particular, Halyna Hrenko, Oksana Metsher, Tetiana Rybar, Larysa Bobalyk, Nataliia Rybar and Kinha Kizman presented their works.
"I am very pleased with the members of the art club – nobody repeats or copies. Each artist is an individual, creative, original, interesting and recognizable person. In spring, nature awakens, and with new flowers, we get new ideas, thoughts, aspirations… The presented works reflect the subject of our exhibition – 'Warmth and Tenderness'. We hope our paintings will encourage people to sow something new, light, tender and good," Oksana Metsher, the head of the art club said. "
The exhibition "Warmth and Tenderness" in Palanok Castle will last for two weeks.
Text: Kseniia Shokina
Photo: Nataliia Pavlyk
© Art & Culture Foundation Brovdi Art