EXHIBITION "GOD'S WORLD – AS EASTER" IN UZHHOROD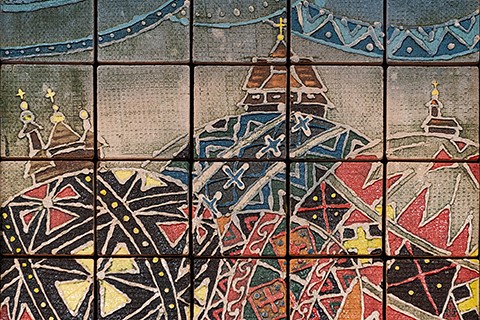 On 3 April 2018, an all-Ukrainian exhibition of decorative and applied arts was opened in the exhibition hall of the Uzhhorod cultural and historical centre "Owl Nest".
The exposition is titled "God's World – as Easter".
It is a traditional exhibition and it is arranged for the 17th time under the patronage of the Ministry of Culture of Ukraine. It is held in Uzhhorod for the first time. "We managed to encourage organizers and bring the exhibition exactly to Transcarpathia," the head of the regional branch of the National Union of Artists of Ukraine, People's Artist of Ukraine Borys Kuzma admitted. "It was difficult because this exhibition is in great demand – each big city would like to host it. We managed to bring it to Transcarpathia and thus we wanted to draw the attention of all Ukraine to the fact that Uzhhorod is a powerful cultural and art centre with lively creative activity. In addition, the exhibition is very relevant – it's held on the eve of a great holiday."
More than 115 works by 86 artists were presented at the exposition. In particular, the works of M. Kozek (Chernivtsi), T. Dzhanaieva, N. Zaitseva, V. Tomashevska, S. Kadochnykova, D. Onyshchenko, N. Hladovska (Kyiv), O. Kaleniuk, Z. Ruban-Holovchuk (Lutsk), O. Stepaniuk (Kamianets-Podilskyi), S. Pashynskyi (Poltava), V. Pashkevych (Lubny), A. Skrypalo (Khmelnytskyi), L. Podvyzhenko (Kherson) and many others. Among the authors of the exhibition "God's World – as Easter" there are a lot of well-known Transcarpathian artists, such as O. Sopilniak, V. Vinkovskyi, N. Popova, O. Skakandii, R. Pylyp, V. Sidak, E. Levadska, O. Kofel, M. Rosul, Y. Yehorova-Rohovs, and others. 
The exhibition itself impresses with its rich diversity, as it presents not only the painting but also tapestries, ceramic products, wood carvings, wooden sculptures, picnics, painting on glass, papier-mache decorative compositions, home-made towels, dolls and even decorative bags. And, of course, Easter pysanka. As Borys Kuzma put it, almost the entire palette of applied and decorative arts was demonstrated at the exhibition.
All-Ukrainian exhibition "God's World – as Easter" in "Owl Nest" will last until 22 April.
Text: Denys Fazekash
Photo: Nataliia Pavlyk
© Art & Culture Foundation Brovdi Art