EXHIBITION "SLOBODAKULT" IN "OWL'S NEST"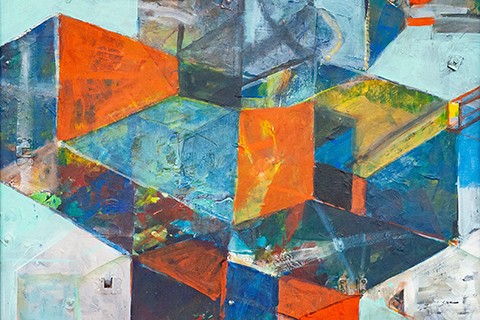 On 15 May 2018, in Uzhhorod cultural and historical centre "Owl's Nest", it was opened the exhibition of the forum "SlobodaKult".
The exposition includes about 60 works that introduce the life of Slobozhanshchyna to the viewers.
Do you know Slobozhanshchyna? For the Transcarpathian viewers, this is an interesting and undisclosed topic, because from here it is closer to Europe than to Kyiv – not to speak about Kharkiv, Sumy or Donbass? Within the framework of the forum "SlobodaKult", the Transcarpathian viewers are offered an objective view of this region without masks and points of pride.
During the opening of the forum, the head of "SlobodaKult" Olha Sahaidak noted: "The main boundaries are in our head, so we try to get beyond them by this project".
Among the represented objects there are samples of the Soviet art, which nowadays can be rarely seen. There are also works on military themes and contemporary art that emphasizes the contrast between Ukraine of that time and now. Presented are paintings (oil, tempera, masonite), graphics (etchings, linocuts, charcoal drawings), prints, photo and video art, etc.
An art critic Oksana Havrosh noted: "The task to show the region as it is, in a limited space, is quite complicated. This exhibition is interesting because we know little about Slobozhanshchyna, we know only several authors. Everything is interestingly thought-out because attention is not focused only on the years of independence. It also shows the art of the Soviet era which we are trying to disown today. Instead, the curators honestly showed what was the living of Slobazhanshchyna in those years, and what it is now."
The exhibition will last for two weeks – until 29 May 2018, till the end of the forum "SlobodaKult".
Text: Kseniia Shokina
Photo: Nataliia Pavlyk
© Art & Culture Foundation Brovdi Art