EXHIBITION "SLOBODAKULT"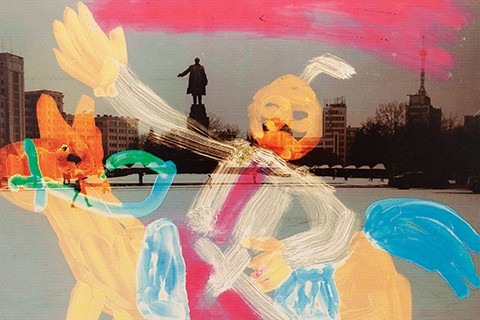 On 15 May 2018, ILKO Gallery presented the main exhibition of the forum "SlobodaKult". It reveals the today of Slobozhanshchyna through the various arts.
The exposition took place in two locations: one part is presented at ILKO Gallery and the other – in the cultural and historical centre "Ow Nest". However, the exhibition and forum as a whole are aimed at looking at the true Slobozhanshchyna, rethinking myths and destroying stereotypes about it.
An art critic, curator of the visual programme of the forum "SlobodaKult" Dmytro Holets says: "We did not set out the goal to show the works of a single author – we are talking about the region in this project. This is an exhibition-research. We did not want to show the best, it's more about the problems, how we perceive ourselves, about the existing stereotypes."
The exposition at the gallery "Ilko" is placed on two floors – the first one is occupied by Hamlet Zinkovsky's project "Polaroid. A Diary. 2015", and on the second there are works of different authors. The exhibition presents the self-awareness of the region and consists of diverse genres: painting, graphics in various techniques, assemblages, collages, photo and video art, etc.
The curator of the forum Olha Sahaidak noticed: "We do not create only a visual picture. After all, everything within the forum is not a ready product – everything is built on co-operation between the two regions. Each event is to talk and culture is a provocation of this dialogue. Within the framework of the forum, there will be curatorial excursions, which will help to understand the region better, so we invite everybody!"
The forum was also visited by the Minister of Culture of Ukraine Yevhen Nyshchuk who said: "The forum is a research moment. We have to examine, learn, establish one another for a common victory. This project contributes to the unification of the whole country. The united country is now at SlobodaKult."
The exhibition will last until the end of the forum – 29 May 2018.
Text: Kseniia Shokina
Photo: Nataliia Pavlyk
© Art & Culture Foundation Brovdi Art