EXHIBITION OF SERHII AND DAVYD BIBA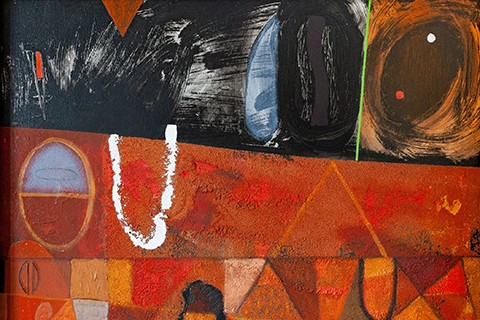 On 30 May 2018, in the premises of the Consulate General of the Slovak Republic in Uzhhorod, it was held the first joint exhibition of Serhii and Davyd Biba.
More than two dozen paintings were presented to the audience.
To present their work together, father and son planned since last autumn – they worked out and selected works in advance and prepared to show them to the public. Finally, the idea was realized: the exhibition turned out to be chamber and harmonious.
More than twenty abstract works together – this is the "Process" of Serhii and Davyd. "All creativity is a search. Our life is a constant process, movement, learning. That is why the exhibition also has such a name. Probably, the next one could be called "Process-2", because we keep on looking for something new, move, and therefore, we are in the process," Serhii Biba explains.
The exposition consists of the works executed with oil and acrylic in the abstract style. According to Serhii, they didn't choose realistic works intentionally, because this is a subject for a separate exhibition.
"I have been working in abstract art for many years and I always try to find another line, another harmony – it's interesting to me. But my son is looking for himself, trying a realistic manner as well. As for me, the process of creating a work is a communication. We communicate with work: I fill it, and it fills me," Biba Sr. says.
Davyd studies at school, however, when he has free time, he asks his father to go to the studio to paint. The boy already has a lot of works – he uses not only oil paints and acrylic but also tries himself in graphics – pastels, pencils, watercolours.
During the vernissage, guests were talking about the continuation of the artistic dynasty, because it is common for the Transcarpathian school of painting. However, it is interesting what path the young artist Davyd Biba will choose.
The exhibition will last for two months with free admission.
Text: Kseniia Shokina
Photo: Nataliia Pavlyk
© Art & Culture Foundation Brovdi Art