EXHIBITION "RODINA UMENIA" BY THE DIDYKS, VOITOVYCHS AND MYRONCHUKS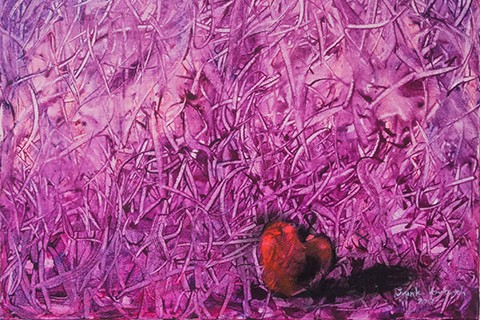 On 1 March 2018, in the exhibition hall of the city department of culture in Bardejov (Slovakia), it was opened an exhibition of the families Didyk, Voitovych, and Myronchuk.
The exposition is titled "Rodina umenia", which is translated from the Slovak language as "Artistic family".
At the exhibition there were presented the works of 8 Transcarpathian artists – the members of one artistic family: this is the Honoured Artist of Ukraine Ivan Didyk, his wife Nadiia Didyk, their daughter Ivanka Voitovych and her husband Oleksandr Voitovych, their son Teodor Voitovych, Ivanka's younger sister – Nataliia Myronchuk-Didyk, her husband – Eduard Myronchuk and their daughter – Edita Myronchuk.
"This is not the first such an exhibition format for us," Ivanka Voitovych explained. "Earlier we exhibited our works in Mukachevo, Kyiv, and other cities in Slovakia. There were also expositions in an even larger format because there is also a large pleiad of artists in my mother's family."
In general, at the exhibition, the artistic family presented 51 works – mainly oil, acrylic and pastel paintings. There are also sculptural works of metal and bronze, which were presented by Eduard Myronchuk. "The exhibition represents a variety of styles because there are a lot of us and each is an artist with his own vision, working in other techniques and theme. These are the works that represent the creativity of our family's artists of different periods," I. Voitovych noted.
According to her, the idea of the exhibition is to show the multifaceted creativity of the artistic family. "The meaning of our lives is to be ourselves and realize the talents that each of us is endowed with," the artist said. And she added: 'By this exhibition, the youngest members of the family make a serious claim on the "adult art life".'
The exposition was decided to be organized in the Slovak Bardejov because in due time all the representatives of the family were the participants of the art plein air "Bardejovska paleta" in different years.
The exhibition "Rodina umenia" will last in Bardejov until 31 March.
Text: Denys Fazekash
Photos are provided by the Didyk-Voitovych family
© Art & Culture Foundation Brovdi Art