International Art Plein Air "Chorna Hora"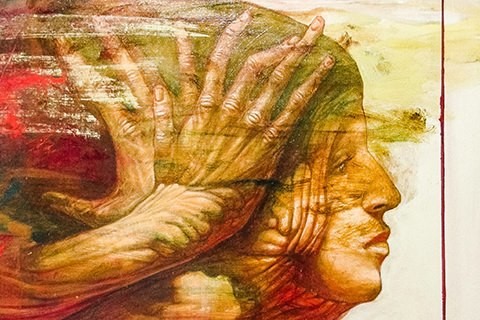 On 16 September, in the exhibition hall of the Vinohradiv City House of Culture "Impasto", it was opened an exhibition of the representatives of various painting schools of Ukraine, Hungary, Slovakia, and Poland.
The artists gathered in Transcarpathia to participate in the International Art Plein Air "Chorna Hora" taken place in Vynnychky natural landmark in Vynohradiv region.
Among the participants in the plain air there were Volodymyr Mykyta (Uzhhorod), Ivan Brovdi (Mukachevo), Viktor Myhovych (Uzhhorod), Taras Tabaka (Uzhhorod), Nataliia Sima-Pavlyshyn (Uzhhorod), Yurii Bodnar (Uzhhorod), Olha Kashshai (Uzhhorod), Oleksandr Mondych (Mukachevo), Oleksandr Serdiuk (Kharkiv), Volodymyr Nosan (Kharkiv), Andrii Chyzhov (Lviv), Miroslav Chapovchak (Michalovce, Slovakia), Ihor Panchuk (Krakow, Poland), Katalin Hollo (Budapest, Hungary), Alina Khrapchynska (Kharkiv), Serhii Hai (Lviv), Nataliia Zastavna (Lviv), Valerii Shkarupa (Kyiv), Myroslav Dochynets (Mukachevo), Petro Antyp (Horlivka-Kyiv), Albina Tabaka (Uzhhorod).
Each of the artists is a representative of the regional painting tradition, constantly searching for new images and means of artistic expression. Along with the masters of the older generation, talented artists of the younger one also worked successfully. They amazed by their activism, creative thinking and dedication.
Presented at the final exhibition works fascinate by their consistency and colourful style. They demonstrate not only the originality and unique creative style of various regional schools but also the high level of performance, thoughtful and serious approach to depicting landscapes, plot compositions, still life in a realistic or individual manner. "An artist is a great heart, emotions," the curator of the plein air Ivan Bilan summed up. So the demanding viewers will be able to get nice impressions and different associative images.
In the exhibition hall presented are 32 works of art that struck with the diversity of artistic directions. However, despite the different techniques and styles, all the works are characterized by elegance and perfection. "What we see is the result of the inspiration of Chorna hora," a curator of the open air Viktor Myhovych said in his speech. "The artists worked freely in their own style."
And the exhibition showed the unity between artists from different parts of Ukraine and abroad in creating their own world and preserving national identity.
Text and photo: Olha Hal
© Art & Culture Foundation Brovdi Art