Exhibition of works from the funds of the Transcarpathian Regional Museum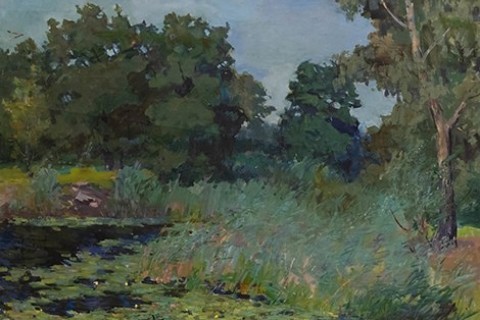 On 22 November 2018, in the premises of the Transcarpathian Regional Art Museum named after Y. Bokshai it was presented an exhibition of works "Golden Pages. Ukrainian art of the second half of the twentieth century."
Ukrainian art extensively presents over a hundred works from a stock collection. The exhibition is dedicated to the 70th anniversary of the museum, and the project is implemented thanks to grant support from the Ukrainian Cultural Fund.
Chronologically, the works cover the late 1940s until the end of the 1990s. Presented here were Kyiv, Lviv, Odesa, Kharkiv, and Transcarpathian Art Schools, but the focus was made on the latter.
In particular, there are works of famous Ukrainian artists: O. Shovkunenko, I. Trush, T. Yablonska, M. Hlushchenko, K. Trokhymenko, and others. The creativity of representatives of the Transcarpathian school of painting is widely demonstrated as well: Y. Bokshai, A. Erdeli, F. Manailo, A. Kotska, A. Boretskyi, E. Kontratovych, Z. Sholtes, G. Gluck, A. Kashshai, Y. Herts, V. Mykyta, Z. Mychka, I. Shutiev, V. Prykhodko, F. Seman, I. Brovdi, and V. Habda.
Art historian Olena Prykhodko remarks: "The exposition will be interesting for the viewer through a variety of stylistic techniques, genres, thematic narrative directions, personal style searches. The evolution of Ukrainian fine art culture is represented very widely. It shows both the diversity of the domestic graphic culture and the uniqueness of the Transcarpathian artists. Everything is organically combined, and although the Transcarpathian school of painting is essentially excellent, our artists moved in the mainstream of the national culture. "
Here is not only oil painting but also sculpture: it is, of course, the works of famous regional craftsmen I. Svyda, I. Harapko, as well as works of a number of representatives of other regions.
As part of the grant project, a series of postcards was prepared, as well as an album-catalogue, which included 150 pieces.
The exposition will last within a month.
Text: Kseniia Shokina
Photo: Robert Dovganych and Nataliia Pavlyk
© Art & Culture Foundation Brovdi Art