EXHIBITION OF IRINA TRETIAK "ART POMEGRANATE"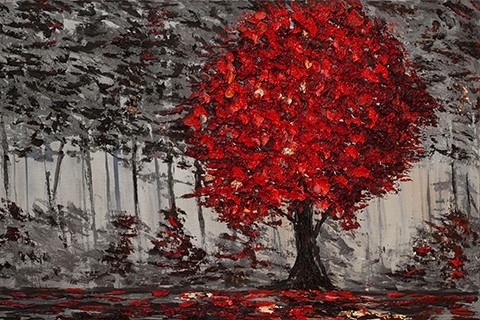 On 24 April 2018, in the hall-atrium of the Transcarpathian Regional State Administration, it was presented the exhibition "Art Pomegranate" by Irina Tretiak.
The exposition is presented for the first time – so far this series of works has not been shown as a whole. About two dozen works open the viewers the world of nature – the artist embodied animalistic themes in her canvases. Irina devotes her exhibition and series as a whole to the children.
"'Art Pomegranate' is a collective name of all my exhibitions. It was, by the way, given by the audience on a series of my works with pomegranates. And although now the subject is completely unrelated to this fruit, all my exhibitions are called that way. The pomegranate has become a turning point in my creativity. That same 'pomegranate' was painted over the heart – a work that I did not really like and which I decided to re-paint. Therefore, this particular picture brought me the greatest success, since the pomegranate has become a kind of talisman," – the artist explains.
Irina Tretiak works in the author's technique, and the style of her paintings is characterized as a design painting. The artist paints with a palette knife and puts a thick layer of oil – thanks to it, her works become voluminous. Irina admits that her works are not just voluminous – they are very heavy because of a thick layer of oil, so they should lie for several months at the appropriate angle so that the paints 'fasten'. It can take several years for paints to dry up completely.
"I like that my paintings are different, they are alive and bright," the artist says.
The exhibition of Irina Tretiak will last for a month.
Text: Kseniia Shokina
Photo: Nataliia Pavlyk
© Art & Culture Foundation Brovdi Art