EXHIBITION OF THE MUKACHEVO CREATIVE ASSOCIATION "RAINBOW"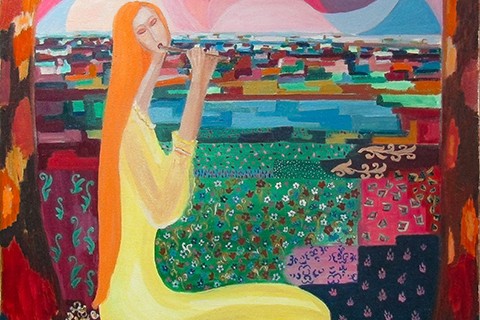 On 8 June 2018, members of the Mukachevo Creative Association "Rainbow" presented their works in the exhibition hall "Impasto" (Vynohradiv).
The exhibition includes about fifty works performed in recent years, and it clearly demonstrates the diversity of creative trends and the search of the artists.
Each author is an original creative person with his own handwriting, thematic, stylistic and genre preferences. As the head of Creative Association "Rainbow" Serhii Pishkovtsii noted, "every artist of this creative association is in continuous movement, develops, actively participates in exhibitions and plein airs".
The viewer will get acquainted with the genre portraits of the authorship of Raisa Dorozhnikova and Viktor Radei, while the colourful polyphony of decorative interpretation of the image of people in the paintings of Tetiana and Nataliia Rybar and Larysa Bobalyk will encourage to reflections.
Landscapes of Anton Sekeresh, Yurii Ulynets, Yosyp Rohlev, Serhii Pishkovtsii, Viktor Radei, Mahdalyna Ilina-Basmanova, Anatolii Konstiantyniv are fiiled with emotional feelings and cosiness.
And the canvases of Iryna Popdiakunyk, Marta Baleha, Larysa Bobalyk, Liudmyla Beliaieva, Raisa Dorozhnikova, and Halyna Hrenkov captivated with floral euphoria.
The exhibition shows that art is the result of the artists' desire to express their own individuality, their vital and philosophical position, and the continuity of traditions is an indispensable condition for the preservation and development of cultural heritage.
The exhibition was also attended by young artist Viktoriia Vulf, who noticed: "Among the variety of exhibited works, everyone can find something close to the soul. After all, one of the main tasks of contemporary artists is not only to keep centuries-old experience but also to multiply it with their creativity. "
The exposition in the Vynohradiv gallery "Impasto" will last until the end of the month.
Text and photo: Olha Hal
© Art & Culture Foundation Brovdi Art