EXHIBITION OF PAVLO KERESTEY IN ILKO GALLERY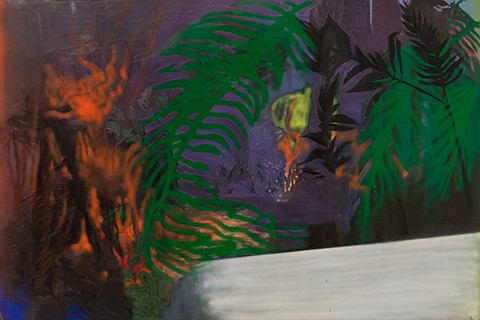 On 8 February 2018, in the premises of the art centre ILKO Gallery it was opened a solo exhibition of the Transcarpathian artist who lives and works in the UK and Germany Pavlo Kerestey.
As the exhibition annotation said, Pavlo Kerestey, who was born in Uzhhorod, left the Paris Commune, a bright, underground post-Soviet art space in Kyiv, and represented the Ukrainian new wave in the late 1990s as a fruitful artist engaged in painting. He made the symbolist pop worlds and configurations of the surrealists' images. Since 1990s Pavlo Kerestey has represented and exhibited his works at the large personal and group exhibitions.
Now, Pavlo Kerestey brings an exhibition to Uzhhorod, which is most likely created to reveal him as the artist as much as possible. Thus, the two floors of the art centre present about 40 works created in different periods since the 1990s. Among them, there are video installations, paintings and photos. The author himself presented his works as follows: "Your interpretation is very important to me – will I be accepted here or not? But more important thing is to be recognized as a Transcarpathian and contemporary artist."
Pavlo Kerestey noted that he had been working abroad for the last 25 years, but his work did not know the borders: "I believe that contemporary art is my profession, and I work with it, moving from country to country. I'm trying, I'm looking for those boundaries that you may not understand today. I'm looking for a granite that I could break… And I think that one should not be afraid of looking for something old or new. You need to be courageous to speak… And today I, as an artist, use this particular platform for dialogue."
Member of the National Union of Artists of Ukraine Pavlo Kovach has long been acquainted with Pavlo Kerestey, since the 80s. About his colleague-artist, he says: "... much time has passed, and I see that Pavlo stands firm on his position. He took root in what could be called contemporary art. We see today that this is a free artist: his freedom is not anarchy, but a huge responsibility. Because the artist expresses himself through his style, through his craft, and Pavlo Kerestey shows that he is an artist, painter, thus he builds his own style in order to be understandable. In addition, he creates space for contemplations, living thin space that the artists have always been considered about. Pavlo is guided not by commerce or business, so it is important for him to pass that warmth and love, communicate with the viewer... "
The exhibition of Pavlo Kerestey will be held at ILKO Gallery until 7 March 2018.
© Art & Culture Foundation Brovdi Art