EXHIBITION OF THE UNION OF ARTISTS NAMED AFTER MIHALY MUNKACSY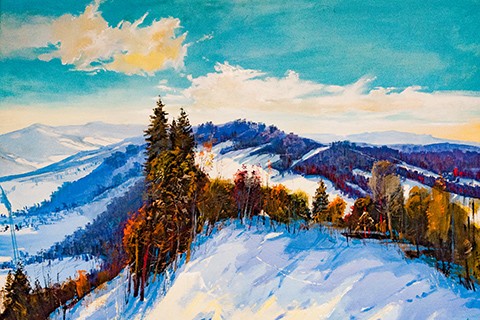 On 26 January 2018, in the Transcarpathian Museum of Folk Architecture and Life, it was opened an exhibition of works by the members of the Union of Artists named after Mihály Munkácsy and other Transcarpathian artists. The exposition is titled "IX Carpathica Art Expo".
The annual exhibition is held under the patronage of the Society of Hungarian Intelligentsia of Transcarpathia and the National Cultural Foundation of Hungary and is timed to the Days of Hungarian Culture in Ukraine.
In the hall of the museum, there are about 50 works of fine arts, as well as works of decorative and applied arts, plastic in wood. In particular, it is exhibited works of about 20 authors, among them there are B. Vashkovych, M. Puhlyk-Belen, A. Pavuk, G. Homoki, E. Nihrini, A. Turak, M. Shete, P. Matl, O. Balogh, A. Bodov, Y. Klisa, P. Sholtes, K. Klisa, G. Sholtes, M. Sholtes, Vlad Habda, M. Belen, O. Tsanko, A. Kuruts.  
The artists presented to the public various works, mostly landscapes and still lifes, done in oil, pastels, and acrylics. At the same time, a selection of graphics comforts the viewer's eye as well. Individual artists demonstrate their works of wood.
The exposition "IX Carpathica Art Expo" can be visited in the Transcarpathian Museum of Folk Architecture and Life until 9 February 2018.
Text: Kseniia Shokina
Photo: Nataliia Pavlyk