EXHIBITION OF A. BOKOTEI, A. CHEBYKIN AND A. MENTUKH ON ST. ANDREW'S DAY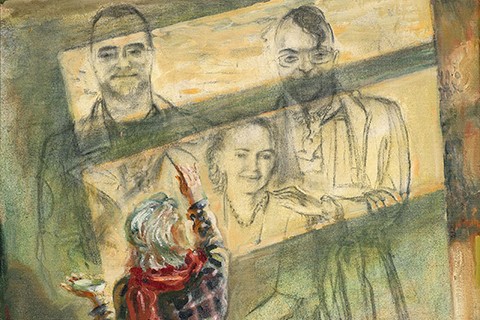 On 13 December 2017, at the premises of the National Academy of Arts of Ukraine in Kyiv, it was opened the exhibition "On St. Andrew's Day" dedicated to the Christian holiday of Andrew the First-Called.
The exhibition presented works by famous Ukrainian artists with the name Andrii (Andrew) – Mentukh, Chebykin and the native of Transcarpathia – Bokotei.
It was represented several dozen works: painting, graphics, decorative and applied art, namely glassworks by Andrii Bokotei. The latter is the world-famous master of art glass, the People's Artist of Ukraine. He was born in Brid village (Irshava district, Transcarpathian region) and became the first representative of the world movement of "studio glass" in Ukraine. According to art historians, in his compositions it can be traced diverse figurative and semantic connections: glass – element; glass - material; space - element and material. At this exhibition, A. Bokotei presented his works performed during the last 5 years. The President and founder of the National Academy of Arts, People's Artist of Ukraine Andrii Chebykin presented his painting and graphics. They were made in different techniques: oil, pastel, coloured ink, etc. These works were performed during the current year and were for the first time presented to the public. Honorary member of the Union of Artists of Ukraine Andrii Mentukh also presented his paintings performed recently.
The joint exhibition of these artists was held not the first time. And each year it necessarily opens on 13th December. Once, the spontaneous idea has grown into a good tradition. This exhibition is organized not only in Kyiv but also in Lviv.
Art historians note that three completely different themes, techniques, and even worldviews created a complete art picture, which not for the first year had a success among the admirers of the Ukrainian art.
The exhibition will last in the exhibition hall of the National Academy of Arts within two weeks.
Text: Denys Fazekash
Photo: Kostiantyn Mokhnach