EXHIBITION "BRIDGES" IN UZHHOROD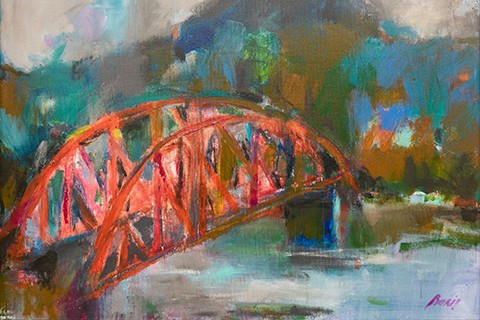 On 14 March 2018, in the premises of the Honorary Consulate of the Czech Republic in Uzhhorod, it was opened an exhibition of paintings by the members of the National Union of Artists of Ukraine.
The exposition has a symbolic title "Bridges".
The exhibition is timed to the Days of the Czech Republic and Slovakia celebrated from 12 to 18 March in the regional centre of Transcarpathia. As Honorary Consul of the Czech Republic in Uzhhorod Otto Kovchar said, this year it is the 100 anniversary of the founding of the First Czechoslovak Republic (1918 – 1938).
In the consulate's premises, there are paintings by Transcarpathian artists, in particular, Vasyl Vovchok, Taras Usyk, Miklos Suto, Vasyl Dub, Borys Kuzma, Andreia Pavuk, and Yurii Bodnar.
As already noted, the exhibition is called "Bridges", and the bridge, in turn, is a symbol of unity. In the near future Ukraine will unite with the European Union, therefore it is not surprising that the multicultural Transcarpathia today builds cultural, social and economic bridges with its European neighbours.
The exhibition "Bridges" will be held until the end of the month.
Text: Denys Fazekash
Photo: Nataliia Pavlyk
© Art & Culture Foundation Brovdi Art