ART EXHIBITION "LYRICS" OF THE CARPATHIANS AND PHOTO EXHIBITION "PROMKA". ILKO GALLERY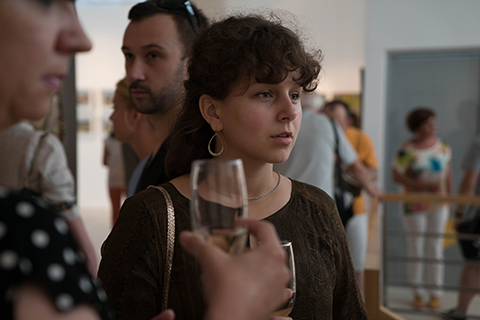 On Friday, August 18, 2017, in "ILKO" Uzhhorod Art Centre, it was presented the exhibition of figurative art "Lyrics" of the Carpathians together with the documentary photo exhibition "PROMKА".
A curator Mykhailo Ilko opened the exhibition with a quote of Otto von Bismarck: – "People forget that all civil institutions, all institutions that support freedom, culture and art in the state die definitively and irrevocably in one case – when the army is falling apart."
The photo exhibition "PROMKa" of the volunteer and military correspondent of Oles Kromplias tells in a series of black-and-white photos about Ukrainian heroes who daily in inhumane conditions, under the constant bombardment defend the integrity of the Ukrainian state.
PROMKA is the name of the industrial district of Avdiivka, which is located close to Donetsk and the strategic highway Donetsk-Horlivka. Every day here, in the territory of several hangars, garages and dacha cooperatives, cruel battles take place at minimum distances. One can hear too much sad statistics from here and very little information. The purpose of the photo report is simple – to remind, first of all, the Ukrainian and world community, that the Russian-Ukrainian war is going on, the occupier is building up strength and now it is not the time for rest.
Sketches of history, legends, fairy tales, mythology, heroics and romance are the themes of the art exhibition "Lyrics" of the Carpathians. If the photo exhibition talks about people on the front line who are defending their land, then the themes of paintings are what they are fighting for and what they mention in the trenches. With this exhibition, the curator tries to touch the issue of re-consideration of our own history and stereotypes - both own and imposed.
"This is our history, which deals with individual events, scenes from the life of the Carpathians, shows our region not as lyrical and beautiful - everything is the more deeply. This exhibition is very contrasting and conveys the feeling that is in the people ", the organizer of the exhibition Mykhailo Ilko explains.
The exposition includes about 60 works of contemporary artists and classics. Techniques of execution - from linocut, digital art, assemblage to classic oil on canvas.
In particular, here you can see the works of V. Skakandii, Y. Bedzir-Kremnytska, V. Habda (Triptych 'Documentary', 2017), N. Tarnai (Diptych 'Musicians in the Carpathian Mythology', 2017), P. Kovach ('Legend of Verkhovyna', 2017), V. Hurin (From the series 'Herbarium of Feelings. Grain', 1990s), P. Kerestei ('Lake', 2016), I. Ilko ('Mykola Shuhai', 2017), N. Ponomarenko ('Quotation', 2012), D. Kovach (Triptych 'REMIX').
Both exhibitions will be open until September 24, 2017
Text: Oleksandr Nikitchuk, Kseniia Shokina (using the press release materials)
Photo: Nataliia Pavlyk