EXHIBITION OF MYKHAILO DEYAK IN THE AUCTION HOUSE "GOLDEN SECTION"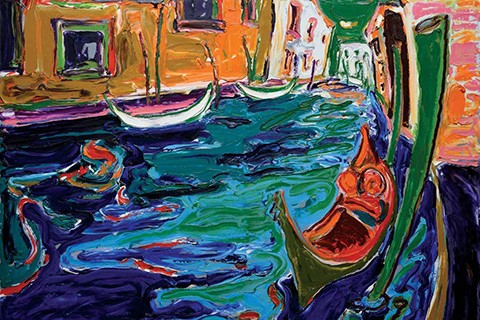 On 31 January 2018, in the hall of the auction house "Golden Section" (Kyiv), it was opened a retrospective exhibition of works of the Transcarpathian artist Mykhailo Deyak.
Most of the exhibited works were presented to the public for the first time – a selection of oil works from the private collection of the co-owner of the auction house "Golden Section" Mykhailo Vasylenko, who first began to collect works by a young artist from Transcarpathia. In total, represented are 21 paintings: still lifes and landscapes of Kyiv, Lviv, Odesa, and Transcarpathia, as well as several works created by Mykhailo Deyak in Venice and Prague.
The young artist uses bright and rich colours, makes sure strokes – this is, according to the collectors and art historians, his special manner, which was formed with help of the Transcarpathian school of painting. "While still a student, Mykhailo Deyak was highly distinguished among the artists of his generation with a special sense of colour, inheriting it from the coryphaei of the Transcarpathian school of painting – Adalbert Erdeli, Yosyp Bokshai, and Andrii Kotska. Today he has reached great success in his work, which can be confirmed by his constant participation in large-scale projects, demand in the art market and a lot of admirers of his talent," Mykhailo Vasylenko says.
The author himself notes: "The presented works were written during my studies at the academy from 2006 to 2011. Of course, the impressionists of the Transcarpathian school of painting had an influence on my formation as a creative person, and then, of course, the Kyiv school in the person of Vasyl Zabashta and his deputy Ihor Melnychuk. However, I think that not only teachers, but also travels, visits to museums and galleries have a great influence on the world outlook and perception of the artist. The student of academy can rarely be called an established artist – it only comes after a while. I think my style began to crystallize only now. "
Mykhailo Deyak – one of the most promising Ukrainian artists, whose works are sold at well-known auctions, in particular, Phillips. The artist participates in large-scale projects, organizes personal exhibitions. In 2016, his works could be seen at the SCOPE Basel International Art Fair, and in 2017 at the Scope Art Show in Miami (the USA). The artist was included in the list of TOP-20 young contemporary artists of the CIS according to the edition Art Investment. He took the 7th place among the most prestigious artists of Ukraine according to Forbes.
"Deyak's paintings can be found in the funds of the National Art Museum of Ukraine. In addition, the well-known Ukrainian and world collectors decorated their collections with the works by the promising author who constantly develops, experimenting with materials and techniques," Mykhailo Vasylenko adds.
The exhibition of Mykhailo Deyak will be held until 17 February 2018.


Text: Kseniia Shokina
Photo: Svitlana Kulchytska