EXHIBITION "ALMOST SPRING" BY YOUNG TRANSCARPATHIAN ARTISTS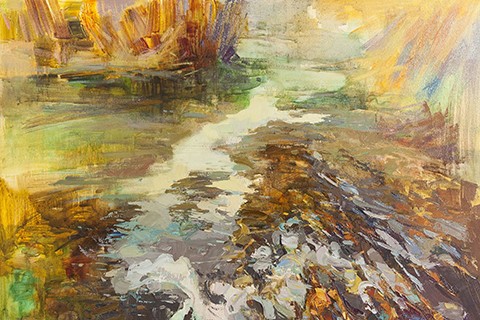 On 1 March 2018, in Uzhhorod art salon "Diptych", it was opened a painting exhibition
The exposition opened on the first day of spring is called "Almost Spring".
Presented in the gallery are the works of the candidates and members of the Youth Association of Transcarpathian Regional National Union of Artists of Ukraine, namely Yaroslava Katran, Olena Peresta, Yevhen Tsap, Oleksandr Kofel, Yaroslav Dulenko, Oleksandr Tkachenko, Volodymyr Mykhailov, Pavlo Marynets, Oleksii Fedor, Anatolii Lakatosh, Vasyl And Tetiana Kohutych and others. Among the participants of the exhibition "Almost Spring", there are also two prize-winners of "Silver Easel" contest – Anhelina Hafynets and Taras Hodvan.
In total, the exhibition presents 22 paintings, each artist provided one or two of his own works. Mostly these are oil and pastel landscapes, portraits, and decorative still lifes.
As the chairman of the Youth Association under the Transcarpathian Organization of the National Union of Artists of Ukraine Oleksii Fedor said, the exhibition is timed to the very first day of spring, although most paintings have winter themes. "On the first of March we traditionally organize such expositions with the works of the organization members," O. Fedor said. Frankly speaking, it was planned to make the exhibition in winter, but it failed. However, taken into account the weather conditions, it is obvious that this spring will come much later, it is quite cold now, therefore the planned exposition is timely. At the same time, we sincerely hope that spring will come soon. "
During the exhibition opening, the five new members – Taras Hodvan, Yevhenii Tsap, Yaroslav Katran, Olena Perest, and Pavlo Marinets – were accepted into the Youth Association of Transcarpathian Regional Union of Artists of Ukraine.
In addition, by the exhibition of young artists, it is simultaneously celebrated the 11th birthday of the art salon "Diptych".
The exhibition "Almost Spring" will last until the end of March.
Text: Denys Fazekash
Photo: Nataliia Pavlyk
© Art & Culture Foundation Brovdi Art