"Masters of colourful palette" of Mahdalyna Berezanych and Ivan Chepa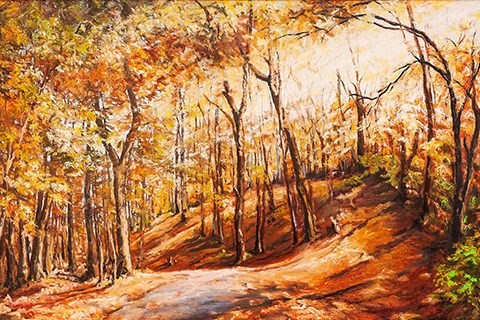 On 30 October 2018, Transcarpathian amateur artists Mahdalyna Berezanych and Ivan Chepa presented their works at the Transcarpathian Museum of Folk Architecture and Life.
The exposition consisted of 35 canvases and covered all painting genres. The Carpathian landscapes predominated. But there were also still lifes, genre scenes and works of sacred content. The works were created in different techniques of execution: a lot of oil painting as well as tempera, gouache, pencil, and pastel.
The artists' works were noticeably different. Mahdalyna Berezanych presented mainly autumn realistic landscapes. The artist also has flower still lifes – gentle, sensual, and feminine. Ivan Chepa presented quite more works: both graphics and paintings – unlike the works of Mahdalyna Berezanych, his works are executed in cold palette, calm colours.
According to Ivan, it's mainly nature that inspires him to create. However, sometimes life suggests its own plots: "I have a genre scene of the wedding. When a child, I was at a wedding and remembered it. I rethought it, made everything in folkstyle – just as it was gone long ago. But not now. There is a work I was inspired by watching the movie "Stone Cross". You never know where the idea comes from."
Vasyl Vovchok, the Head of the Painting Section of Transcarpathian Organization of the National Union of Artists of Ukraine, noted: "Sometimes non-professionals put more talents to their work. This exhibition confirmed it. Just look how the artists feel everything; they pay attention to the details. This is a direct, pure perception of the world. Ivan Chepa paints even sounds. I would advise to pay attention to the stylization, plastic of paintings. Mahdalyna makes every centimetre of her paintings with love: here every detail is important. She has a fresh, unprejudiced professional view.
The exhibition will last until at least mid-November 2018.
Text: Kseniia Shokina
Photo: Nataliia Pavlyk
© Art & Culture Foundation Brovdi Art