"LOVE ..." OF THE ART CLUB "PALITRA-SPECTRUM" IN MUKACHEVO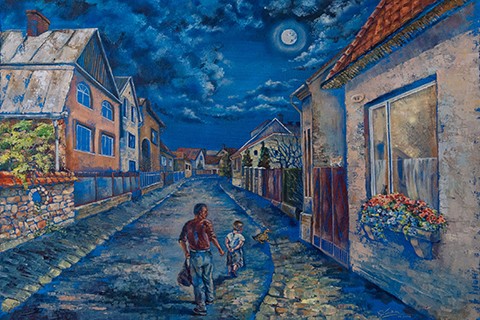 On 16 February 2018, in the Palanok castle gallery in Mukachevo, it was opened an exhibition of the artists of Art Association "Palitra-Spectrum".
The exposition is timed to the St. Valentine's Day and, accordingly, is called "Love ..."
The exhibition presents painting, namely about 50 pictures, as well as decorative and applied arts. All works are created to attract the attention of the viewers to the same theme. And the interpretation of each artist in its own way is original and unique. "We devoted this exhibition not so much to the romantic relationship as to love," said Oksana Metsher, chairman of the Art Club "Palitra-Spectrum". "This is a broad understanding. Love is the feeling not only between man and woman but also for one's native land, nature, environment. This is a wonderful feeling. And this exposition is to remind about it on this February holiday".
The genre's exhibition palette is quite rich: here you can see both portraits, landscapes, and abstractions. Performed paintings are in different techniques – oil, acrylic, and watercolour. According to O. Metsher, the idea of the exposition was rather spontaneous, and it was implemented in a short time, but it managed to collect nice art works. By the way, some works are presented to the public for the first time, namely by Tetiana Rybar, Larysa Bobalyk and Halyna Hrenko.
Among the works of decorative and applied arts, the exhibition presents ceramic painting by Oksana Metsher, who also presented her paintings.
In general, their works in Mukachevo presented the permanent members of the art club: Halyna Hrenko, Oksana Metsher, Viktor Harabar, Tetiana Rybar, Anton Sekeresh, Robert Brahinskyi, Nataliia Rybar, Kinga Kizman, and Larysa Bobalik.
The exhibition in the Mukachevo Art Gallery of Palanok Castle will last until 1 March 2018.
Text: Denys Fazekash
Photo: Nataliia Pavlyk
© Art&Culture Foundation Brovdi Art