THE EXHIBITION "DROPS OF BEAUTY" BY YULIIA YEHOROVA-ROHOVA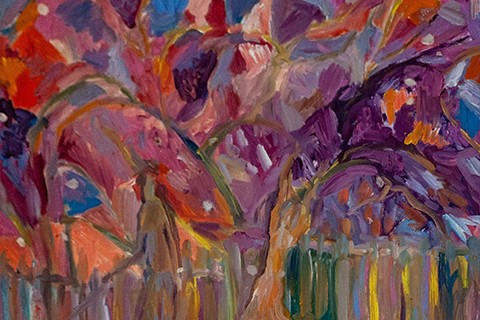 On 10 March 2018, in the Uzhhorod cafe "Fanka", it was held a presentation of the exhibition of painting and ceramics of the artist, member of the National Union of Artists of Ukraine Yuliia Yehorova-Rohova.
The exposition is titled "Drops of Beauty".
The exhibition presents about fifteen dozen paintings and 12 ceramic works by the artist. According to the artist herself, they are all united by the theme of spring and the recent flowering of the cherry blossom in the city over the river Uzh.
"The flowering of our fabulous trees inspired me to this exhibition," the artist said. "Rather, the general attitude, the people's reaction to the surrounding. The splash of this beauty makes people live a full life – rejoice, forget about disagreements, despite the difficulties, feel the moments of happiness. And in the paintings, I wanted to reflect exactly those moments that cause such emotions. It's not a secret that paintings can communicate with people."
The artist chose the place for the exhibition not by chance. According to the artist, one should often leave the gallery space.  "The idea of this exhibition is to be closer to people's lives, to leave the gallery space and to touch the life space," she said.
Paintings created with oil on canvas, cardboard and paper. By the way, at the exhibition "Drops of Beauty", Y. Yehorova-Rohova for the first time presented works made with oil on paper. Among the genres, there are landscapes and semi-abstract works. Some of them were first presented to the public. In particular, paintings called "Two Under Cherry Blossom" and "A Starry Tree" are painted during the flowering of the cherry blossom.
As to ceramic products, the exhibition presents pottery, dishes, pots, and vases (techniques – modelling, majolica, watering). "Ceramics does not interfere with painting, on the contrary – they support each other. They emphasize the beauty of paintings. They create beauty that reigned during the flowering of the cherry blossom. It is a sense of happiness that gives us strength, and the beauty is our salvation," she said.
The exhibition "Drops of Beauty" will last about a month at the cafe "Fanka".
Text: Denys Fazedkash
Photo: Nataliia Pavlyk
© Art & Culture Foundation Brovdi Art