KOSTIANTYN LYHALOV'S EXHIBITION IN THE GALLERY "CORRIDOR"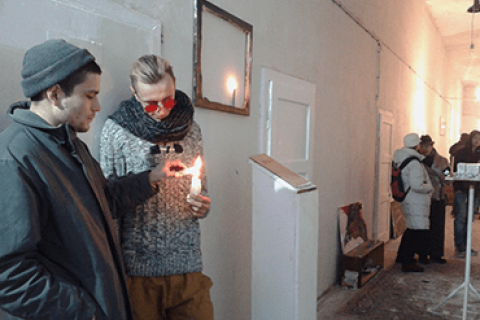 On 27 January 2017, in the informal gallery "Corridor" that is in the former building of the art fund in Uzhhorod, it was opened an exhibition of the young Uzhhorod artist Kostiantyn Lyhalov under the title "Around Us".
Here are presented a dozen works, and the exhibition itself was preparing for a year. The curator is a young artist and a friend of Kostiantyn Attila Hazhlinski, who clarified that the pictures of his friend are the installed painting. No work is completed, each of them is for several times redrawn, edited. He believes that these stories are layered one by one.
Here, in the "Corridor", it is presented the world of the artist in which he lives and works. "I do not know how it's called. This is what I see around, mixing different techniques. This is an ethnographic study of the artistic state of the space around us. The works plot runs through my life, through my ups and downs", Kostiantyn says.
Visitors have the opportunity to see the works of a young artist for several more days.