GRAPHICS OF GABRIEL GLUCK AT ILKO GALLERY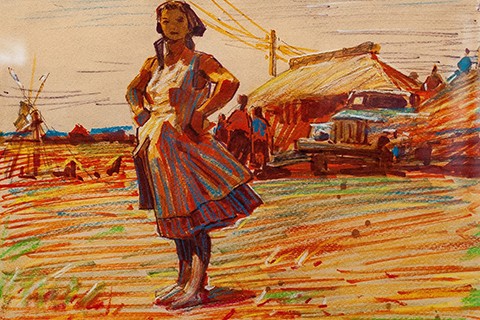 On 17 April 2018 in the art space ILKO Gallery (Uzhhorod), it was opened an exhibition of graphic works by the famous artist, one of the coryphaei of the Transcarpathian School of Painting Gabriel Gluck under the title "Drawing".
Presented were about a hundred drawings executed in different periods of the artist's life. Among all the representatives of the Transcarpathian School of Painting, Gabriel Gluck had probably the largest amount of perfect graphics. The exhibition represented various techniques: pencil, pastel, coal, sangria, watercolour, and felt-tipped pen.
An art critic Mykhailo Syrokhman noted: "His pencil, charcoal, pastel do not create a separate theme or style, it is rather a graphic hypostasis of his talent and a realistic vision. They essentially and necessarily complement the painter's world of the artist, making a double role of preliminary drawings for paintings and at the same time – completed independent works. They tell us about the motivation of the artist, his creative charge from the dynamics of movement and rest, the rhythm of handwork, reveal the features of his drawing. These features include the accuracy of the stroke, its tension, the force of pressing, the accuracy of pencil movement, which begins and ends exactly at the right point. Several accented lines form the shape, outline the figure, movement, gesture, virtuoso stroke cascade in the designated plane, very accurately convey the psychology of the image, moment. Another feature – the rhythm, the variation of light and shadow, dark widely shaded and barely affected by the material planes. Sometimes rhythm captures the artist, and he performs with light, short strokes the whole figurative friezes – dynamic, dancing."
At the opening of the exhibition, an artist Ivan Ilko noted: "Painting in Transcarpathia is not a chance. It has a great philosophical, thorough, ethnic and high professionalism. And these drawings show how powerfully Gluck penetrated into the essence of an image – that's why he managed to create unsurpassed things."
According to Mykhailo Syrokhman, Gluck's works should not be characterized as unambiguous socialist realism, although formally and by the theme, they are like that. "It's rather optimistic realism, in which light and colour dominate, in which there is a joy of life and creativity. These qualities are also present in the black and white graphic works of the artist. This is a valuable art heritage and magnificent exhibition material. Gluck's drawings require to be exhibited, presented in series, organized thematically or on technical grounds," Mykhailo Syrokhman emphasized.
The exhibition will last until 13 May 2018.
Text: Kseniia Shokina
Photo: Nataliia Pavlyk
© Art & Culture Foundation Brovdi Art