Exhibition "Graphic Transcarpathia" in Uzhhorod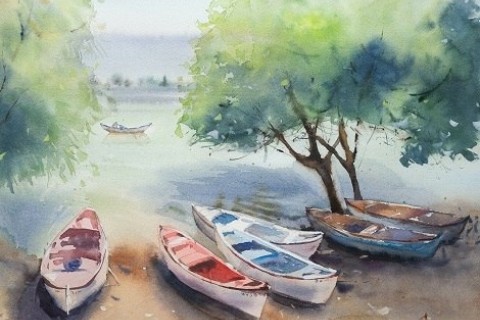 On 22 February 2019 in the gallery "Uzhhorod", it was opened the thirteenth regional exhibition "Graphic Transcarpathia". 57 artists presented almost ninety works performed in a variety of techniques. The overwhelming majority of works are new, performed mainly during 2018.
Honoured artist of Ukraine Ivan Didyk during the opening of the exhibition said that he was personally pleased that there are many works by new artists at the exhibition: "Just look – there are monotype, pencil drawing, watercolour, combined techniques, and experimental graphics on glass presented by one of the participants, this is very good!"
Among the authors, as well-known Transcarpathian artists, as well as talented students of the Transcarpathian Academy of Arts and the College of Arts named after A. Erdeli. At the exhibition "Graphic Transcarpathia" their work presented such artists as A. Kulin, N. Myronchuk, S. Lakatosh, K. Yalova, Y. Durdynets, N. Shtybel, Y. Dulenko, D. Kovach, L. Borshosh-Litun, T. Ivanytska, B. Vashkovych, A. Pavuk, O. Storozhuk, V. Neikaliuk, V. Berynets, M. Irzhak, O. Dolhosh-Sopko. I. Didyk, B. Kuzma, V. Kuzma, M. Suto, Y. Kopanskyi, M. Kopanska, I. Demian, L. Savko, V. Kohutych, Y. Bodnar, Y. Kopanskyi (jr.), M. Peter, V. Habda, V. Andrianov, L. Korzh-Radko, A. Todoriuk, T. Hodvan, L. Pavlyshyn, O. Dovhanych, P. Marynets, Y. Katran, L. Kurta-Stehun, O. Tokar, T. Kopanskyi, O. Esenova, J. Klisza, V. Pal, D. Yatsyna, O. Kofel, V. Skakandii, N. Sima-Pavlushyn, O. Mondych, and D. Kovalenko (Czech Republic).
The famous Transcarpathian artist, academician Volodymyr Mykyta, during the opening of the exhibition, noted: "I remember the days when no one spoke about such exhibitions, only some of our masters performed graphic works and presented them, and now every year they present only graphics separately! Moreover, every exhibition is bigger, new authors present their works, it's fantastic! And it is good that there are new searches, serious searches, because if the artist does not experiment, he will stop, and on this ends his creativity. Therefore, I wish all those present: seek, experiment, move in search of new!"
The exhibition will last for almost two weeks.
Photo: Nataliia Pavlyk
© Art & Culture Foundation Brovdi Art