Exhibition of Gabriel Gluck in Consulate General of Hungary in Uzhhorod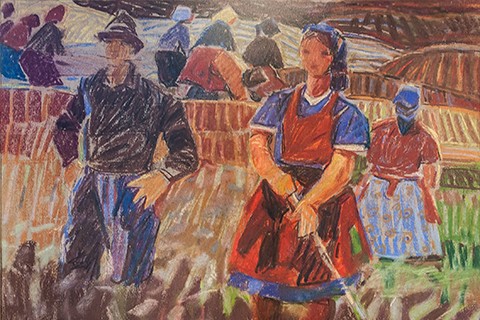 On 19 January 2018, at the premises of the Consulate General of the Hungarian Republic in Uzhhorod, it was opened a chamber exhibition of works by the coryphaeus of the Transcarpathian art school Gabriel Gluck.
The exposition includes about ten works that present various periods of the artist's creativity. The exhibition is held with the assistance of the Department of the culture of the Transcarpathian Regional State Administration and the Hungarian Consulate General.
All submitted works are from the private collection. As the artist's grandson, Oleksandr Aleksandrov told, here one can see the paintings of the artist's different creative periods. Thus, for example, the exhibition presents the drawings of the late 40s – early 50s, along with a painting made almost ten years later. "For art critics, it can be especially interesting an unfinished work of the artist. Thanks to it, one can see the way master worked; and next to it you can see its completed version in the same style and of the same period – it shows a woman who works in the field, said O. Aleksandrov. Still, one should pay attention to the sketch to the great work "Pitra In the Field", which the artist painted in Dobron village of Uzhhorod region."
The exhibition primarily presents to the art connoisseurs the graphic heritage of the artist. A large number of drawings, as art historians noted, testifies that Gabriel Gluck painted a lot and constantly, he was fluent in this technique and had his own original style. Gabriel Gluck – an unrivalled artist who was not only a faithful follower of the masters of the past but also made his significant contribution to the development of their traditions. "Gluck was happy among people, he was really the people's artist because he grew up with the people and lived his whole life with them. That is why there are a lot of works depicting ordinary people, their everyday life", the art critic Liudmyla Biksei told about the theme of works.
The creativity of Gabriel Gluck, as noted at the exhibition, became not only a bright phenomenon in the cultural and artistic life of Transcarpathia but also the treasure of the Ukrainian art of the 20th century.
Text: Nataliia Petervari
Photo: Nataliia Pavlyk